Is buying cars from home normal now?
Car sales are down across the board in 2020 for predictable reasons. Job losses, quarantines, and dealership closures have wounded automakers worldwide.
But the losses certainly aren't equal. In the UK, for example, vehicle output fell by more than 90% from last year's figures (up to April) for every fuel type except EVs. Petrol dropped precipitously by 98.5%, diesel by 97.6%, even PHEVs and hydrogen-electric vehicles by over 95% each. Meanwhile, EV sales stumbled a comparably minor 9.7%. Overall in April, electric vehicles made up 31.8% of all UK registrations, second only to petrol at 35.9%.
There are obviously a range of factors feeding into these numbers. EV sales grow naturally year-on-year as technology improves and prices fall; UK low-emission incentives are strong; EVs are popular for business fleets. But that was all true before the crisis — it doesn't explain the enormous difference in 2020 specifically. For that, we should look to the way EVs are sold.
Buy it online
It was Tesla that paved the way for online car sales in the early 2010s. The fledgling EV automaker used online-only ordering as part of their company-wide vertical integration strategy. Tesla wanted to control as much of the manufacturing and sales process as possible and dealers were in the way — so they just bypassed them entirely. Since then, automakers have routinely used EVs to test the waters for online sales.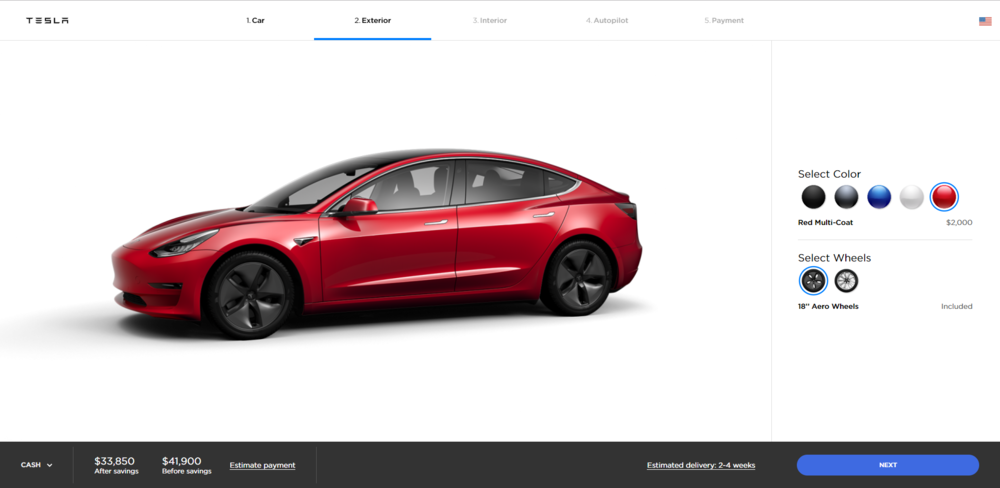 Just last year, Porsche used the all-electric Taycan to show off their new online configurator. Ford are doing the same with the 2021 Mach E. Volkswagen are opening dedicated "ID. stores" for the new ID.3 à la Tesla's showroom-only physical store strategy. Since April, all new VW models can be configured and ordered online.
But why stop there? Surely the next step is to do away with all physical presence altogether. Online showrooms; online test drives; online orders; delivery to your door without ever leaving the house. Sounds like a joke, right?
Modern problems…
… require moden solutions, and Volkswagen China have leant right into the memeable mantra with a swift shift to online showrooms. After a three-day online course trained 70,000 staff in live broadcasting and video production, dealerships were quickly onboard to take the full vehicle-buying experience online for Chinese customers. COVID might keep customers indoors, but VW wouldn't let it keep cars on the lot.
Michael Mayer, Head of Sales and marketing for VW China: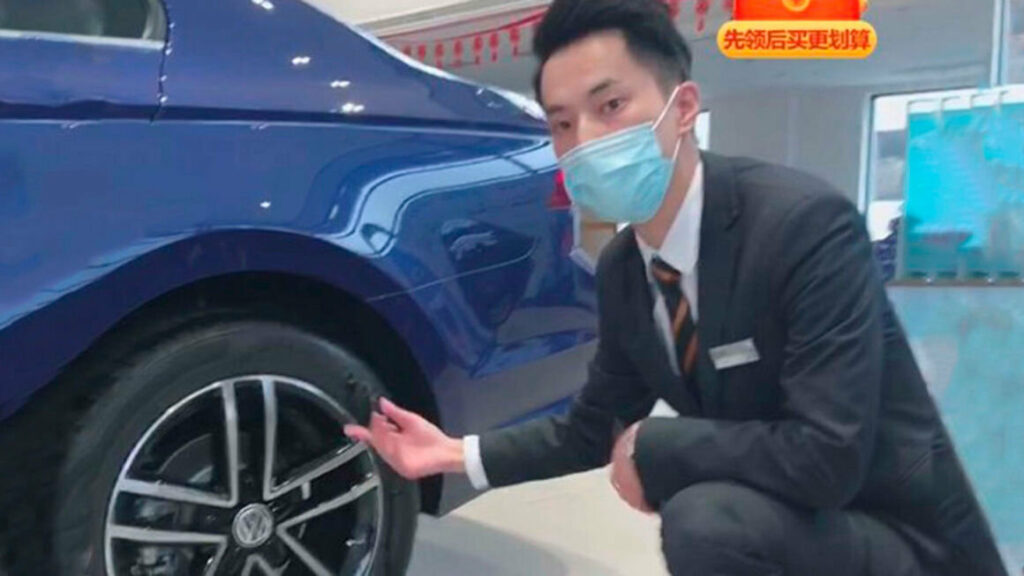 "After [training], the lively experimentation with digital formats began. On average, dealers present a new show every other day on platforms such as TikTok or Kuaishou […] Car salespeople are becoming entertainers."
That "entertainment" includes Q&A sessions, vehicle showcases, and even virtual test drives. Customers are encouraged to participate and complete the entire purchase process online. If they want a test drive (how old-fashioned), they can request a freshly disinfected car to be sent to their door. Purchase deliveries and services are also available to-and-from customers' homes.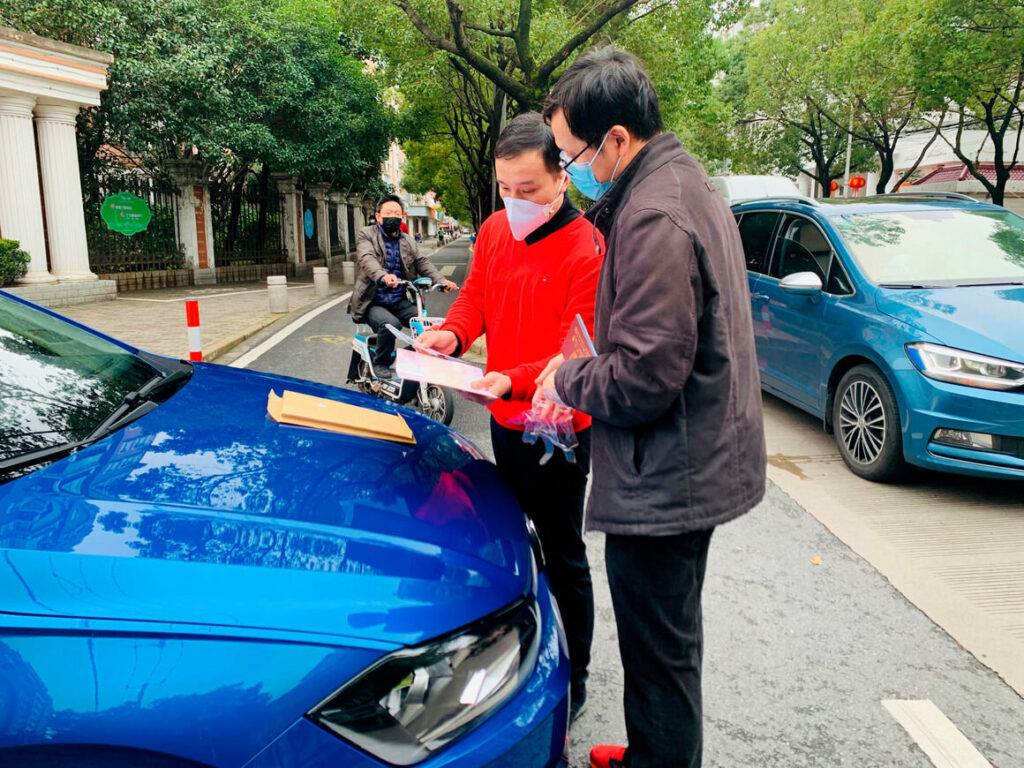 From mid-February to the end of March, Volkswagen China completed around 18,000 services and vehicle deliveries. But despite the success of the program, Mayer stresses that this isn't the new normal for VW China: 
"This does not mean that we will make pure online sales the standard. [Customers] expect that they can negotiate the price. That works best on site. For this reason, we plan to have separate meeting corners in new car dealerships. Even if digital continues to spread, the human aspect must not be forgotten."
It's hard to believe that haggling — most people's least favourite part of the car-buying process — will be enough to sustain dealerships if automakers smell a cheaper alternative. VW have made it clear that at least part of the online shift will remain.
Things to come
While VW China's total pivot to online sales has been the most comprehensive of the pandemic period, they weren't alone. Around the world, automakers have been forced to respond to the sudden absence of customers in their dealerships.
Porsche are unveiling the new 911 to an online audience on their web TV channel for the first time; Ford have upgraded their suite of online tools for dealers and customers and moved sales online (temporarily); BMW are offering at-home test drives and virtual consultations the same way VW China did.
Every part of the car-buying experience seems to be moving away from traditional dealers & showrooms and towards digital alternatives. Many automakers have kept dealers involved as they make the switch, but it's hard to see them retaining their relevance in a post-corona world without a specific reason for existing.
EVs' (short-lived) ascendance in the UK auto market wasn't just a curious anomaly. These cars succeeded because Tesla and other manufacturers were prepared to support them online, and combustion alternatives weren't. In order to be more prepared for further crises down the line, automakers will need robust online platforms with a presence in every part of the sales process.
It's just risk management for the big automakers, and if customers get used to it there's a good chance they won't ever want to go back. Just ask taxi dispatchers or CD salespeople. If it can be done online, it will be.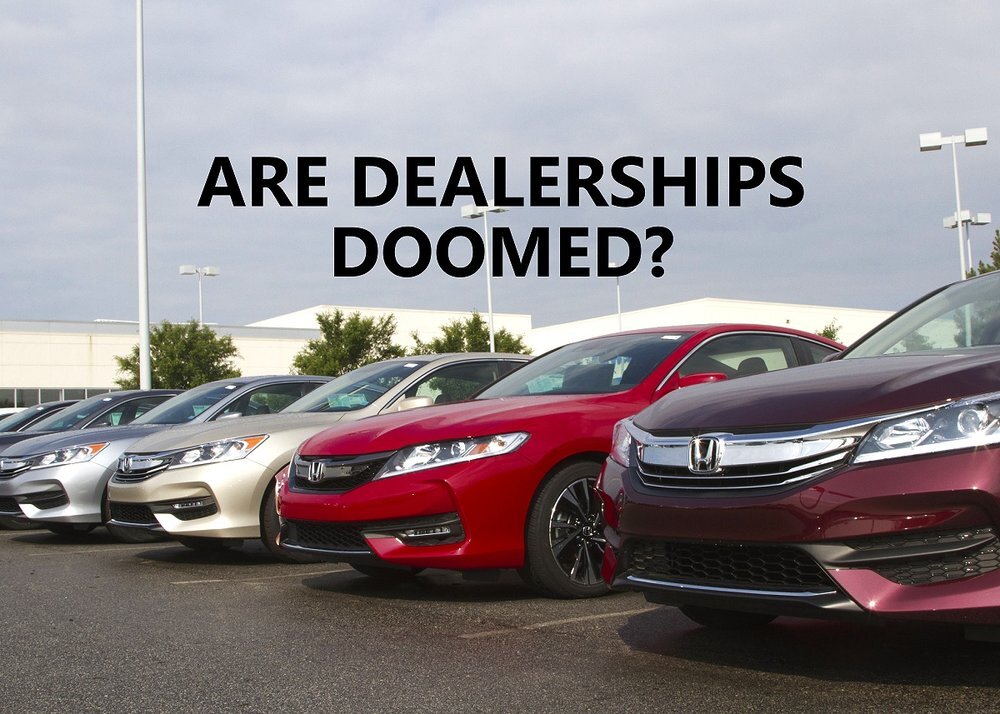 The pros and cons of selling cars online