Apartment Residents
Electric vehicles aren't just for those with a garage
JET Charge offer installation and charging support for EV drivers in apartments, flats, and units around Australia.
Get Started
So, you want to charge your EV in your building?
Whether you're already cruising electric or just getting started, here's the scoop on apartment EV charging: 
Your building's Owners' Corporation Committee (OC) – formerly called body corporate – calls the shots for common property changes. So, if you're eyeing EV infrastructure in your car space, you'll need a thumbs-up from the OC and maybe some tweaks to the strata by-laws.

 

When setting up charging, most OC's want a way to track EV electricity usage – That way, each owner can be billed fairly for the energy they use.

 
How to get started
There are a few steps involved in organising EV charging in your building: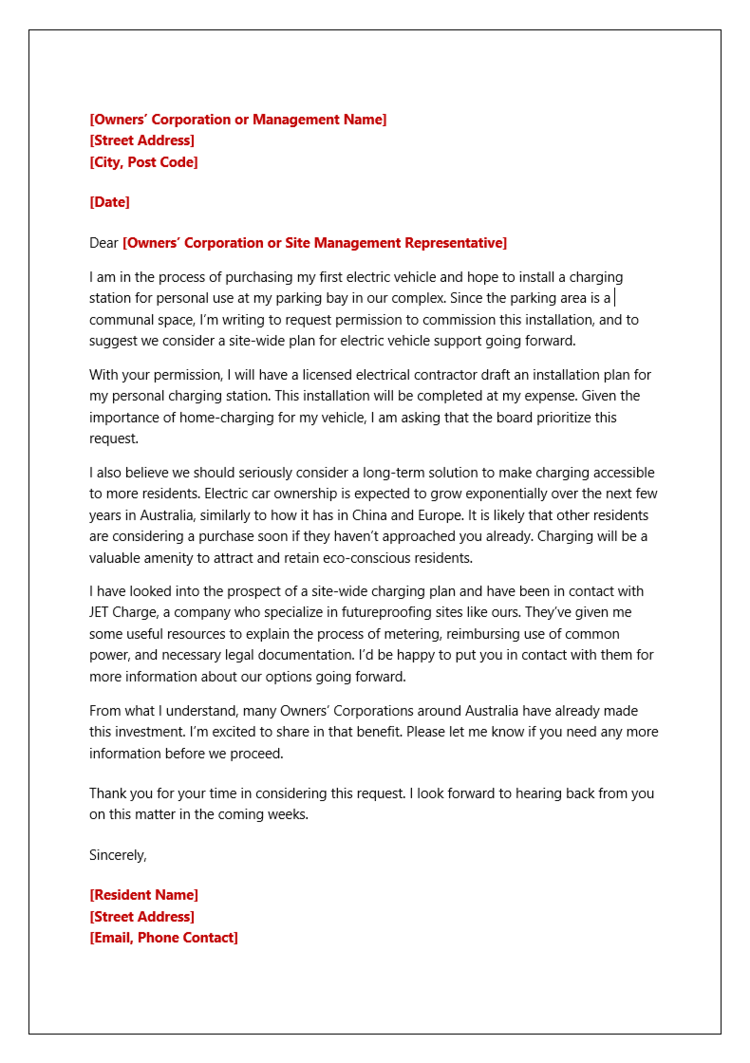 Contacting your Owners' Corp or Site Management
If you're the first in your complex to buy an EV, it can be tricky to know how to approach your OC for charging permission. Thankfully, we're here to help! JET Charge have worked with apartment residents across Australia in their charger installations.
We've used that experience to create a letter template you can use to get the ball rolling today. Just download the document, fill in your details, and send it off.
Can I get a charger for my private car space? 
Yes, you can. We have a range of EV charger options suitable for private EV Charging. 
Do I need OC approval to install my charger? 
Yes. In most cases, EV charger installations are considered a change to common property, which means it will require OC approval.
I am looking for a ballpark figure, how much is it roughly?  
We hate to say it, but it really depends on the nature and complexity of the installation at your building! To understand costs fully, a site assessment is required. However, typically apartment installations range between $3,000 – $5,000. This does not include the cost of a charger.
How do I keep track of electricity usage? 
As much as we'd all love to get fuel for free, the reality is that our owners' corporation won't let us install an EV charging station unless we can somehow account for the electricity. The two most common options to track and pay for electricity usage are either by connecting to your existing electricity meter (only possible in smaller apartment blocks) or by using a digital solution like Chargefox: Australia's biggest EV charging network. This allows you to pay per session or by a set period, and Chargefox will reimburse the OC every quarter for the amount of electricity you consume. Simple. 
Okay, so what are the next steps for me to install an EV charger? 
Given that the most suitable location for your EV charger connection will be the building common power, it's a good idea to engage with your OC early on. If you'd like to put us in contact with a representative of your OC, or your OC manager we'd be happy to have a conversation with them about the best way to provide you with access to EV charging.
I am a tenant, how does it work for me? 
To kickstart the process, speak with your landlord regarding EV charging options. You can kindly ask them to reach out to your building's Owners Corporation (OC) to discuss potential EV charging plans for the property.
Talk to Us
Ready to get in touch? Once you have your OC approval, select your electric vehicle below and press Next to start your charging journey.