Apartment Residents
Electric vehicles aren't just for those with a garage
JET Charge offer installation and charging support for EV drivers in apartments, flats, and units around Australia.
Apartment resident installations
We're here to help, so contact our team and let's get your project moving today.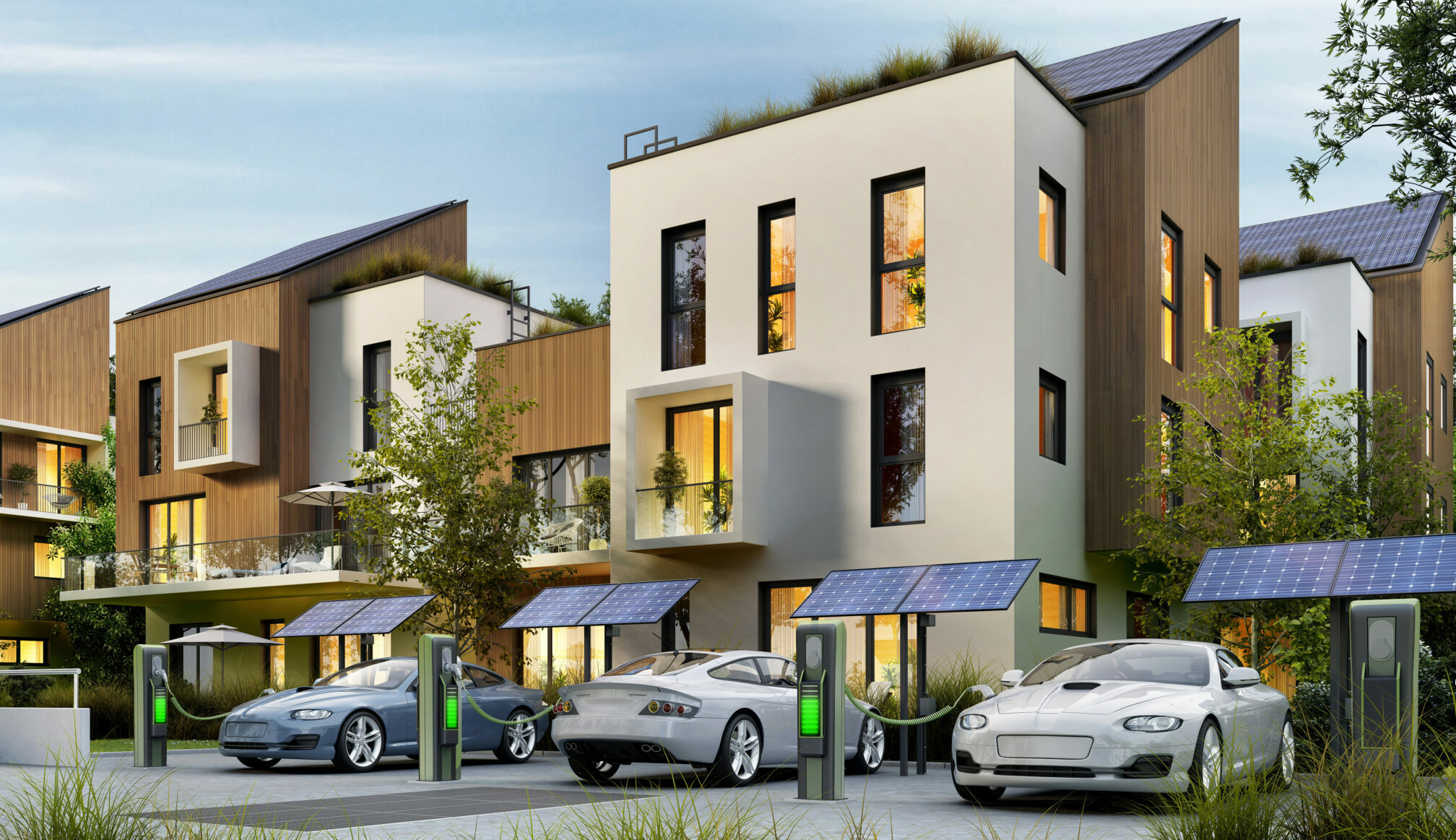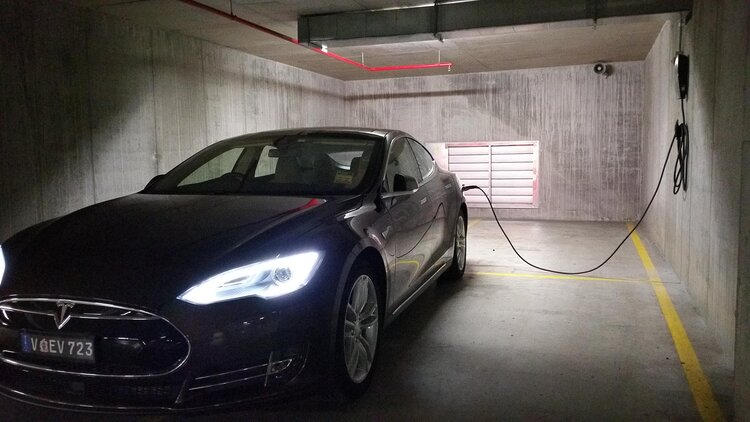 I would like to charge my EV in my building
Every year, more and more Australians move to apartment living as a sustainable, affordable urban alternative. If this is you, you may also be considering (or have already made) a shift to electric mobility. EVs are ideal for commuter transport, and there is no reason you shouldn't be able to charge at home.
JET Charge are committed to making charging accessible to every Australian, including apartment-dwellers.
Fill in the form at the bottom of this page to contact our installations team and get started on charging today.
Can I get an EV charger just for me?
Surprisingly for many, we recommend EV charging in your own car space. That's because most charging happens overnight, so unless the building implements rapid DC charging in communal spaces, it's not a long term solution to have everyone share a charging station.
Those of us who drive EVs know that we sleep while we charge, and that our charging behaviour is very different to those who drive petrol and diesel cars, who have to put up with the inconvenience of going to a petrol station all the time. We help you get a "fueling" station in your own car space!
JET Charge will prepare all proposals on behalf of EV drivers to their owners' corporation and strata manager.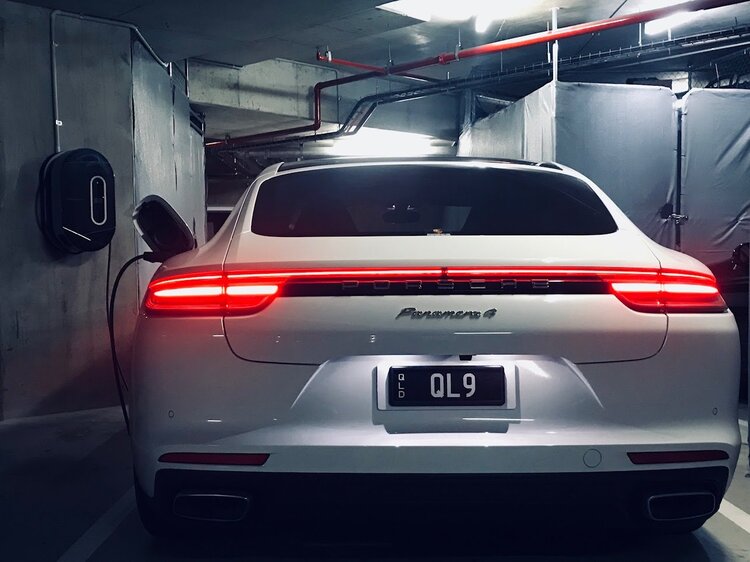 How do I keep track of electricity usage?
As much as we'd all love to get fuel for free, the reality is that our owners' corporation or body corporate won't let us install an EV charging station unless we can somehow account for the electricity.
JET Charge offers a variety of options to track and pay for electricity usage. The two most common are either by connecting to your existing electricity meter (possible in smaller apartment blocks) or by using a digital solution like Chargefox: Australia's biggest EV charging network.
You can pay per session or by a set period, and Chargefox will reimburse the body corporate every quarter for the amount of electricity you consume. Simple.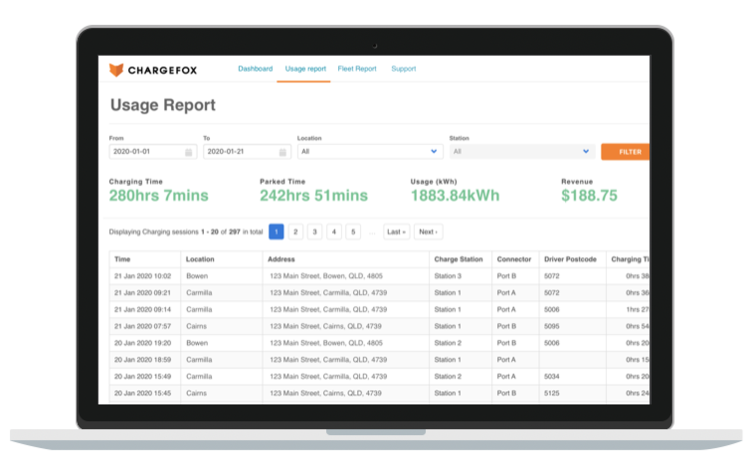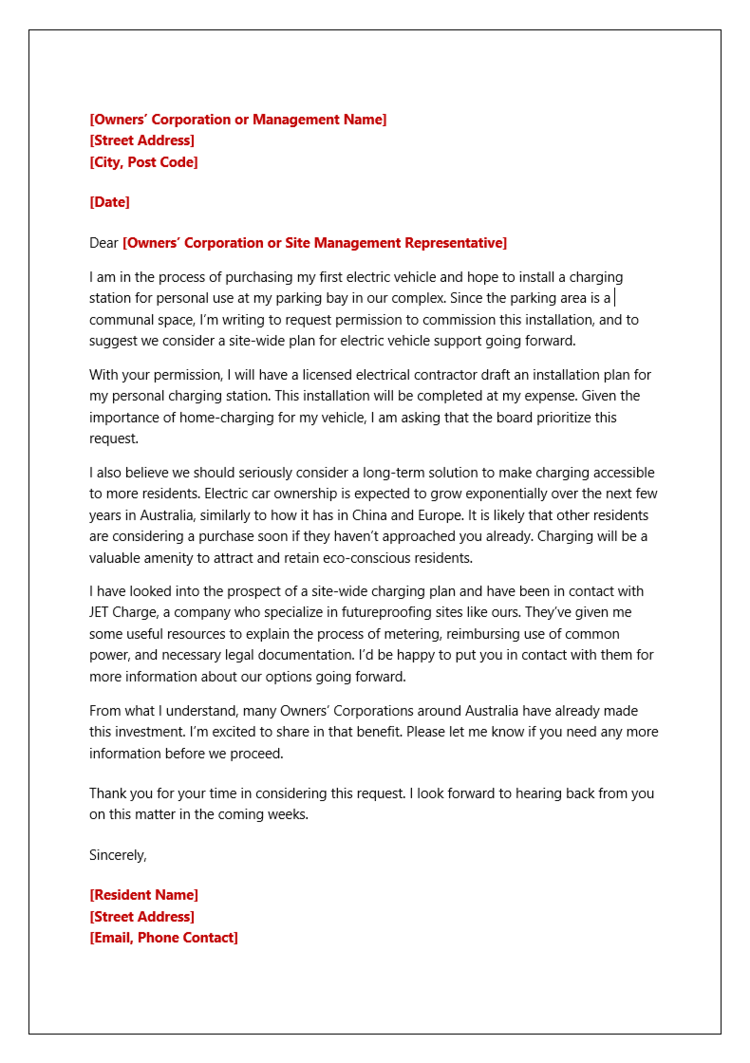 Contacting your Owners' Corp or Site Management
If you're the first in your complex to buy an EV, it can be tricky to know how to approach your OC for charging permission. Thankfully, we're here to help! JET Charge have worked with apartment residents across Australia in their charger installations.
We've used that experience to create a letter template you can use to get the ball rolling today. Just download the document, fill in your details, and send it off.
For our full suite of resources (as described in the letter) you can get in touch using this form.