A wacky intro to the electric Fiat 500
The Geneva Motor Show has been cancelled but Fiat aren't ready to skip their big reveal. The 500 is getting an electric upgrade. In Europe, at least.
But this isn't just more of the unpopular 500e. The 'third generation' 500 has been built from scratch as an all-electric vehicle. Combustion models will still be sold, at least for the next few years, but Fiat are marketing this as the definitive 500.
In an 18 minute promotional video released this week, Fiat Global President Olivier François sells the new 500 as an 'eco' revolution for the iconic model.
Familiar first impressions
It doesn't take long to see what François is going for as he walks the streets of Milan — the 500 is riding on its Italian pedigree to stand out from the other electric hatchbacks launching in Europe this year.
And at a glance, it can be easy to get the models confused. Fiat are leaning into the same flowing curves, wide base, and LED-rimmed lights that we've been seeing in other recent EVs.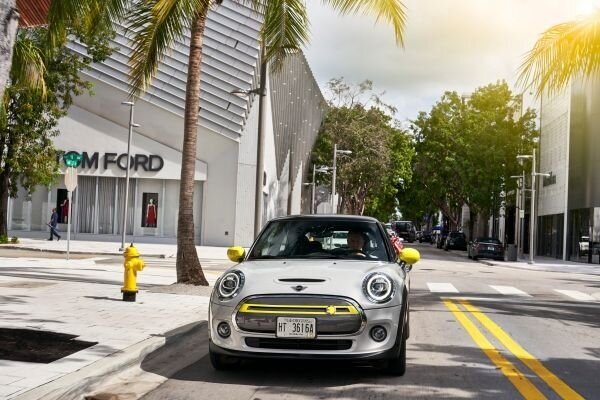 Just like those models, the 'Nuova' 500 is wider and longer than its predecessors and will be the first Fiat with a 10.25" touchscreen. Seats will be upholstered in recycled plastic. Sound familiar?
Even the launch is being run on the ID.3 playbook. The new 500 is being marketed as the model's third generation, an 'eco' revolution to follow the 1960s Fiat 'social' revolution and the 'ego' revolution in 2007. Fiat are also leading the release with a limited run of 'La Prima' 500s available for pre-order in Europe now.
But it would be unfair to paint the electric 500 as a copycat. Especially not with the wacky features Fiat have included.
Selling points
Fiat clearly knew they had to set the 500 apart from the latest crop of EVs, and they've found a number of unique ways to do it.
Buyers will notice the first one before they even step into the car. The 500's key fob is modelled after a small stone pebble. According to François it's designed "to feel natural, relaxing, eco-sustainable."
EVs are known for being silent but EU regulations require that they produce a sound to alert pedestrians at low speeds. Most manufacturers opt for a robotic hum, but Fiat have gone all Italian with the Amarcord theme by Nino Rota.
That's not a joke. The 500 plays a string melody as it drives.
The 500 boasts a practical 320 km WLTP range and Fiat report that it can push to 400 km in city conditions. Not bad, but if it isn't enough there's still 'Sherpa Mode' to fall back on. Like a Nepalese mountain guide, this mode promises to get you "back to base camp" by limiting all non-essential features.
But for the longest journeys even that might not be enough. In these cases, 500 owners can turn to Fiat's exclusive "My Dream Garage" hire service to take another FCA vehicle out on the road. Choices include Jeep off-roaders, Maserati sports cars and Fiat vans.
But there's more to a car than the flashy extras. The 500 will need to make an economic case to compete in the increasingly crowded e-hatch segment.
Which might be tough to do. Pricing for the standard model hasn't been released, but the high-spec 'La Prima' is being sold in Europe for €37,900 (~$65,000 AUD). Even with a significant discount, it's unlikely to match the sub-€30,000 price of the Volkswagen ID.3.
Fiat are justifying the cost with a raft of tech features. The touchscreen display, 5th generation UConnect infotainment system, and Level 2 autonomy are included as standard. The 500 will support up to 85 kW fast charging for its 42 kWh battery.
No Australian release has been slated so far. A right-hand drive variant is confirmed for the UK in 2021, but it looks unlikely we'll see it anytime soon thanks to our distance from Europe and the Commonwealth Government's lack of EV policies.