What we know about the Volkswagen ID.3
The ID.3 has been revealed in Frankfurt, marking the 3rd generation for Volkswagen and the beginning of their full-scale transition to electric mobility. With range, specs, and price on their side, the ID.3 is set to be a game changing EV for Europe — but Australians aren't so lucky.
Looking at the ID.3, its design pedigree is clear. It's the Golf aesthetic with an electric twist. A snub nose and steep A pillar are designed to maximise interior space, and a newly redesigned badge harkens back to VW classics like the Beetle and Kombi.
And that fresh VW design isn't just skin deep. A focus on aerodynamics and efficiency has given the ID.3 some impressive range, starting at 330 km for the 45 kWh base model up to 550 km for the 77 kWh variant.
Volkswagen have also announced pricing to start at less than €30,000 for the base ID.3. Compare that to the most affordable Model 3, the Standard Range Plus, which retails for over €44,000 in the same German market.
That low price has already started paying dividends. Over 30,000 customers have preordered the "1st edition" model ID.3. Volkswagen are expecting hundreds of thousands more to follow when the regular model goes on sale in Europe.
But that kind of deal in Australia? Don't get your hopes up. Volkswagen have no plans to bring the ID.3 to Australia or the US anytime soon, with the European rollout slated to begin in mid 2020.
Lack of Aussie attention aside, the ID.3 is big news for the EV economy worldwide. Being priced below the Hyundai Ioniq EV is huge, especially with the range and liveability specs to back it up.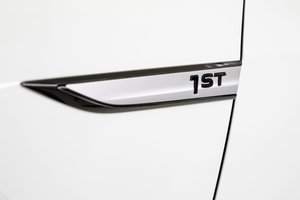 Which is especially clear in the ID.3's interior. Both front and rear seats can comfortably seat a lofty European thanks to VW's "Open Space" design, and the boot is sufficiently spacious for family-scale storage needs. Drivers benefit from two screens, one mounted directly to the steering column and a 10 inch touchscreen to one side. Together with a heads up display it makes for a practical and appealing purchase — especially compared to the button- and dial-heavy design of many combustion alternatives.
Volkswagen are calling ID. the "3rd generation" of their automotive legacy, following era-defining models the Beetle (1938) and Golf (1974). That label doesn't come for nothing, either, as VW have made some bold additions besides the turn to electric.
The brake and throttle pedals are marked with pause and play symbols, respectively, and the iconic VW badge has been redesigned for the new generation. Interiors are offered with leather or vegan alternatives, and voice control is offered as standard.
It doesn't take a long memory to recall the dieselgate scandal of 2015-16. After tampering with emissions data from their vehicles, Volkswagen's public image took an enormous blow that hasn't yet fully healed. The events of dieselgate directly led to VW's current investment in e-mobility, and likely led them to their decision to build the ID.3 completely carbon neutral.
So, if Australians aren't getting the ID.3 in 2020, when can we expect an all-electric Volkswagen on our roads? It's complicated. VW have given no hard-and-fast news about an Aussie rollout for the ID.3 or other electric models, with current estimates suggesting they could take up to 2022 to make it here.
Check out more EV news and updates on the JET Charge blog. You can contact us at info@jetcharge.com.au with personal EV charging inquiries or follow our Facebook page for regular updates.