What are the Major Government Programs out for EVs right now?
Government programs have a significant influence on how fast the rollout of electric vehicle ownership and infrastructure will progress in Australia and New Zealand. These programs can encourage or deter EV ownership through their policies and in turn impact the acceleration of EV adoption. The following outlines the major government EV programs at a federal and state level and the policies around EV vehicles and infrastructure.
Federal Level
The Australian Federal Government currently provides funding for electric vehicle infrastructure and has increased the threshold for the Luxury Car Tax for low emission vehicles. The threshold is $79,659, a significant increase in comparison to the standard vehicle rate of $69,152. Australia is without a national fleet target, electric/heavy vehicle strategy or plans for its public transport transition and implementation of e-mobility. The government has announced support for smart/home charging, co-investing with the private sector to supply 50,000 charging stations in Australian homes.
The EV infrastructure funding is funnelled through the Future Fuels Fund, run by the federal government's Australian Renewable Energy Agency (ARENA). The Future Fuels Fund was initially announced by the Federal Government as part of the 2020-21 Federal Budget, designed to advance ZEV use in Australia by partnering with the private sector through a co-investment model. The fund totals nearly $250 million, primarily intended to support public charging and fleet infrastructure. The first round saw an investment of $24.55 million to co-fund the rollout of 400 public fast-charging stations. The Future Fuels Fund is currently in its second round, targeting the electrification of fleets. For more details on this funding and its application process click here.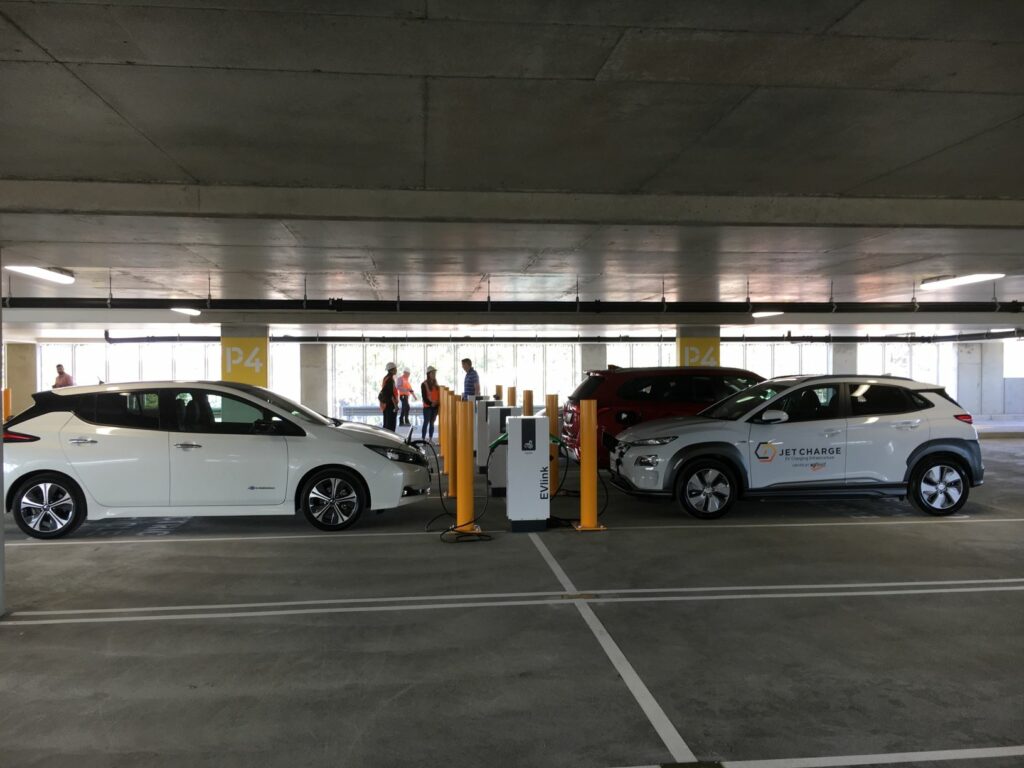 State Level
Australian Capital Territory
The Parliamentary and Governing Agreement has emphasised the need to support uptake by reducing the cost of purchasing an EV through a range of incentives including:
Two years of free registration
$15,000 interest free loan applications
Full stamp duty exemptions for first time purchases
In addition to this, the ACT has already achieved its government fleet target with 100% of new fleet leases already converted to zero emission vehicles. However, there are currently no incentives for fleets. The state is also without an electric truck/heavy vehicle strategy. The ACT also has committed to a zero-emission transport system by 2040 and is encouraging e-mobility travel to commuters through e-scooter trails.
Current infrastructure investments include $1.3 million for 50 new chargers by the end of this year, to complement the 29 regular chargers already available for public use. There are only 5 fast charging locations, though that is expected to rise as the ACT has also committed to co-funding 20 additional fast chargers. The state is targeting 1000 public chargers by 2030.
New South Wales
The NSW Electric Vehicle Strategy details the states approach to the transition of EVs. Financial incentives to reduce the upfront cost of EVs have taken priority, these include:
A subsidy of $3,000 for the first 25,000 electric vehicles sold – eligibility criteria limits availability to EVs bought for less than $68,750
Phase out of stamp duty for EVs purchased for under $78,000 (also applies to public and private fleets)
Fleets: A fixed $400 incentive per vehicle for BEV smart charging at business premises or employee's home – limited to subsidise the price of smart chargers only. $150 million tender auction to assist private businesses, non-profits, and local councils to electrify their fleets.
No road user charge for EVs – until July 2027 or when the benchmark of 30% of EV new vehicle sales has been met.
New South Wales has set the bar high with their targets and investments with nearly $600 million in funded actions reflecting this. There are plans for a state-wide charging network that supports both urban and country travel with an EV, a target of 100% vehicle fleets to be BEVs by 2030, 100% zero emission passenger vehicles by 2040, and a strategy in place for electrifying its bus fleet. The state is without an electric truck/heavy vehicle strategy.
NSW also leads Australia's charging infrastructure movement with 463 regular and 93 fast-charging sites currently available for public use. An additional $131 million commitment to 1000 fast-charging bays are expected across the state. The fast chargers will be positioned across 100km intervals on major highways and every 5km in limited parking residential areas and major commuter corridors in Sydney. To encourage businesses, commercial property/site owners and local governments to host EV charging stations, NSW is also offering grants through the Drive Electric NSW EV fast charging program.
Northern Territory
The Northern Territory has outlined its strategy within its newly introduced (2021) Electric Vehicle and Implementation Plan. The NT's Financial incentives to reduce purchase costs of an EV include waived registration fees and a $1,500 reduction in stamp duty for five years. Both of which also apply to fleets. In addition to these financial incentives, the NT is contributing to the cost of 100 home chargers, targeting 200 EVs in its Territory Fleet by 2030 and aiming to install at least 400 charging points at identified priority government buildings. 
The Northern Territory has 14 regular and 2 fast-chargers contributing to its EV infrastructure. They have committed to providing fast-charging funding, though the details of that funding have yet to be announced.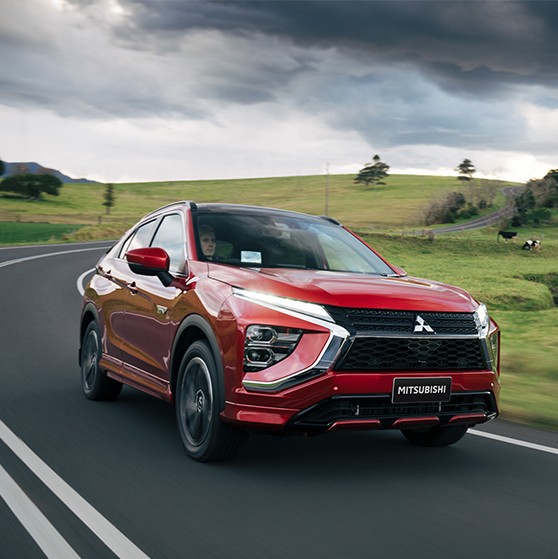 Queensland
Queensland's Zero Emission Vehicle Strategy and Action Plan consists of support for reducing the upfront costs of electric vehicles. This includes:
A $3,000 discount for 15,000 EVs – eligible vehicles must be bought for under $58,000.
All electric vehicles are registered in the lowest tier of fees – saving approximately $70.00.
Alongside these financial incentives, the state intends to achieve 100% of eligible government fleet to transition to zero emission vehicles by 2026 and has set a sales target of zero emission vehicles of 50% by 2030 and 100% by 2036. Queensland is also encouraging public transport transition by introducing regulations that enable the use electric micro-mobility.
Queensland's charging infrastructure currently stands at 63 fast-charging and 262 regular charging locations. This will continue to bolster with another 18 fast-charging sites bound for the Queensland Electric Super Highway, a $12.75 million investment.
South Australia
South Australia's Electric Vehicle Action Plan has also introduced financial incentives for the purchase of EVs, including: 
A $3,000 subsidy for 7,000 new BEVs for eligible vehicles priced under $68,750.
A registration fee exemption lasting 3 years for new BEVs until the July 2025 deadline.
Up to a $2,000 rebate on electric vehicle smart chargers; dependant on the system including a 7kW or above charger, remotely managed, high renewable energy, or low grid demand.
No road user charge until July 1, 2027, or when EV sales reach 30% of new vehicle sales in SA.
SA is committed to achieving 100% zero emission passenger vehicle sales by 2040, and for light vehicle fleets to make the transition by 2030.
South Australia has committed $13.4 million to add 28 regional fast chargers to complement the 14 they already acquire, alongside the other 180 regular charging locations.
Tasmania
Tasmania have introduced stamp duty and registration waivers lasting two years to financially incentivise the purchase cost of EVs. The state also has a government fleet target of 100% zero emission vehicles by 2030 and has begun to adopt electric micro-mobility with e-scooters and e-skateboards being launched. The Tasmanian Government has funded $6 million for an EV bus trail and is also introduced a no road user charge scheme until July 2027, or when low emission vehicles make up 30% of all new car sales.
Tasmania has invested $1.2 million over 2 rounds of the Charge Smart Program to fortify its public charging infrastructure. There are currently 67 regular and 18 fast-charging locations in the state. An additional $600,000 in funding is set to strengthen this number.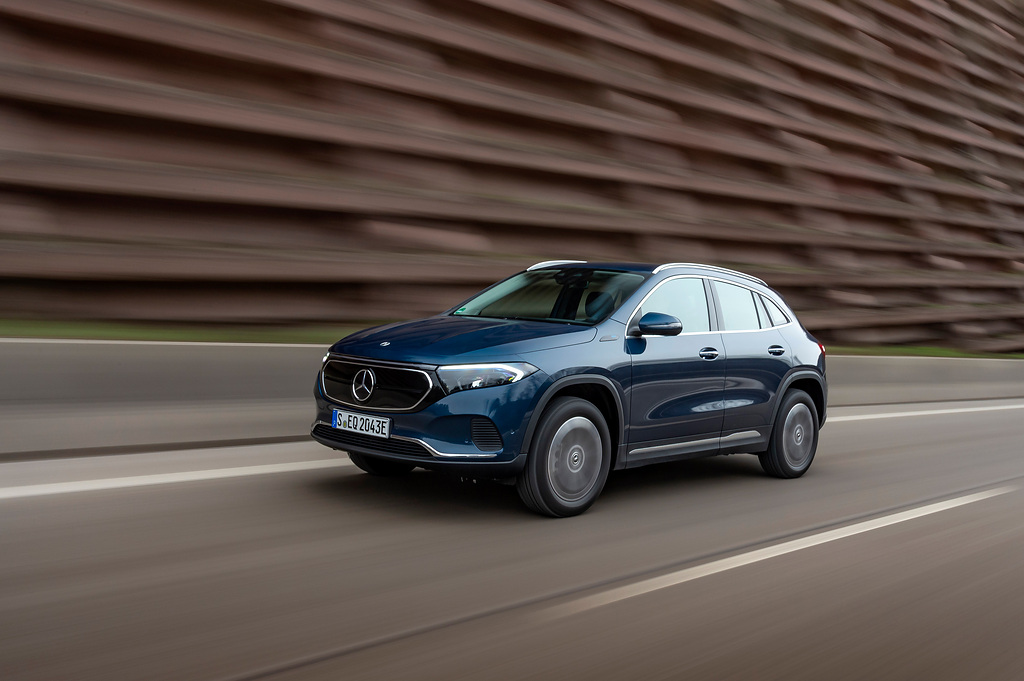 Victoria
The Zero Emissions Vehicle Roadmap provides a framework for Victoria's electric vehicle strategy. The state's financial incentives for EVs include:
A $3,000 subsidy for the first 4,000 ZEVs sold under the $68,740 threshold
A $100 concession on annual registration fees for ZLEVs
Further subsidies for 20,000 vehicles to be detailed in the future
Business fleets are eligible to apply for the ZEV subsidy for up to two vehicles, the first 4000 cap still applies. In addition, the EV Charging for Council Fleets and EV Charging for Business Fleets programs provide up to $1.5 million in grants to fund EV fleet infrastructure.
A $5 million grant from the Commercial Sector Innovative Fund to accelerate business readiness for the uptake of ZEVs.
Victoria is committed to 100% zero emission passenger vehicle sales by 2040, the procurement of 400 government fleet ZEVs by 2024- valued up to $10 million, and is converting all its buses to ZEV from 2025 to support its public transport transition. An upcoming $20 million ZEV trail is in the works. As of July 2021, electric vehicles do accrue a fee from the implemented road user charge by VicRoads.
Already amassing 363 regular and 67 fast-charging public locations, Victoria is committed to co-funding $6 million worth of fast charging stations at 50 locations across regional Victoria. Successful applicants of the $5 million Destination Charging Across Victoria Program will see to the installation of an additional 141 fast-charging stations.
Western Australia
WA's EV strategy is detailed within the State Electric Vehicle Strategy for Western Australia. Unlike other states, WA has not prioritised incentives that reduce the costs associated with purchasing an EV but have instead emphasised the need for developing a capable charging network across the state. Nevertheless, EVs are exempt from the On-demand Passenger Transport Levy. The state is targeting a government fleet that is 25% electric vehicle by the year 2025 and has spent $80,000 to fund a consumer awareness campaign. 
Western Australia's public charging infrastructure investment includes $20 million for 90 fast-chargers across 45 locations that are less than 200km apart, on average. This is to be added on top of the 202 regular and 31 fast-charging stations WA already possesses. To assist with its fleet target, $800,000 has been spent on charging infrastructure in government buildings.
New Zealand
New Zealand's current financial incentives include The Clean Car Discount which will impose ether discounts or additional costs depending on the vehicles emission rate. As a result, electric vehicles can be subsidised from up to $8,625 NZ ($7,980.50 AUD) for newly imported vehicles and $3,450 NZ ($3,192 AUD) for used. New Zealand have also implemented a road user charge exemption for low emission vehicles until the 31st of March 2024.Additionally, New Zealand is targeting an emission free government vehicle fleet by 2025/26. $13.1 million toward aiding the government fleet transition to EVs. In May 2022 the government will release its first Emissions Reduction Plan, where New Zealand's EV transition is set to be further outlined. There is currently upwards of 300 publicly accessible charging locations in New Zealand, with chargers available every 75km across its state highway network.
Summary Table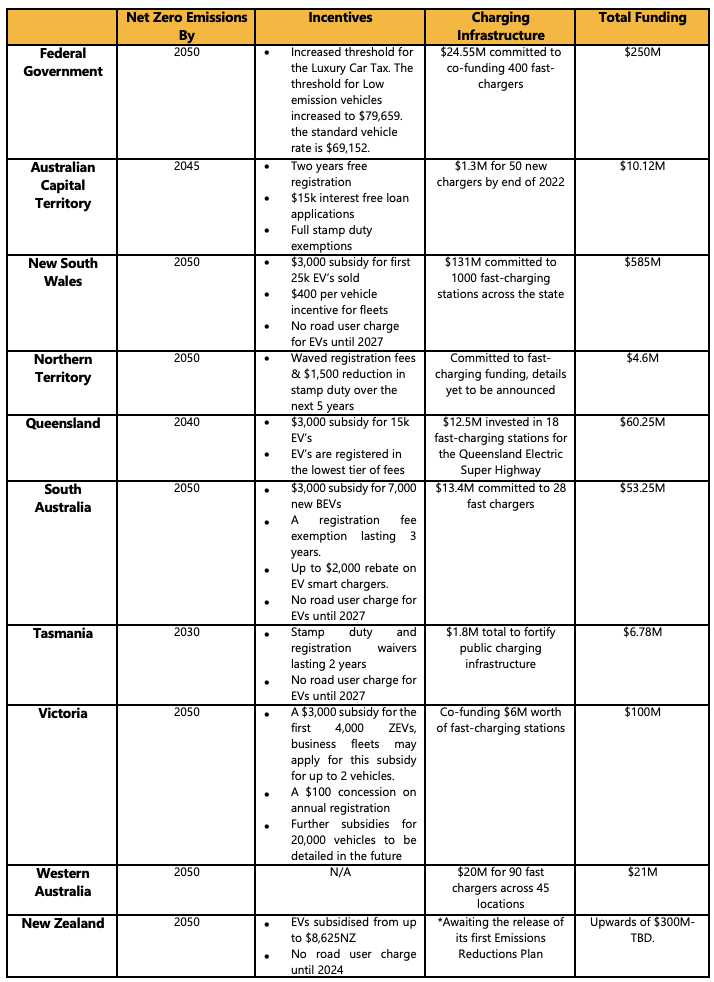 For more content, look at what's new on the JET Charge blog.