Australia's best EV road trips
As unpredictable as the COVID lockdown has become, there will presumably come a point where we all leave the house and get on with our lives. When that happens it's unlikely to be a sweeping return to normal. International travel is probably going to be off the cards for some time.
But that doesn't mean we can't leave our homes or take time off. In fact, there's never been a better time to plan a domestic holiday — Australia is just as beautiful as it's always been, and regional businesses could definitely use the support. It's practically your civic duty to schedule a trip!
To help make it happen, we've plotted some of the most accessible routes for awesome all-electric drives around the country. No portable chargers or roadside generators; every trip described here uses publicly accessible charging stations to see the greatest hits of regional Australia.
Tips and considerations for an electric vehicle road trip
Planning is an essential part of long EV journeys. Always ensure you know where your next charge stop is located and about how long you'll need to charge there. Powerful DC chargers can deliver hundreds of kilometres of range in an hour, while smaller AC stations will require a longer stop to accomplish the same. Use mealtimes, overnight stays, and natural rest stops to minimise the impact of charging on your journey.
Knowing the range of your vehicle, downloading some public charging apps, and bringing a cable for socket-based chargers can make all the difference. We recommend checking out the RESOURCES section of the JET Charge website to become familiar with these things if you haven't already. 
The other big difference is whether you're driving a Tesla. Tesla have installed their own DC Superchargers and AC Destination Chargers at locations all over the country — often in places without any other brand-agnostic public chargers. As of 2020, only Tesla vehicles can use their branded DC Superchargers, but some Destination Chargers are accessible to non-Tesla vehicles. Whenever we've recommended a Tesla charger, we'll indicate whether it's accessible to non-Tesla EVs.
For chargers that are owned and operated by a business, it's often best to call ahead and check that the charger is available in advance. If it's a Tesla destination charger, they'll be able to clarify if it can be used by non-Tesla vehicles. Some places will even let you reserve it before you arrive.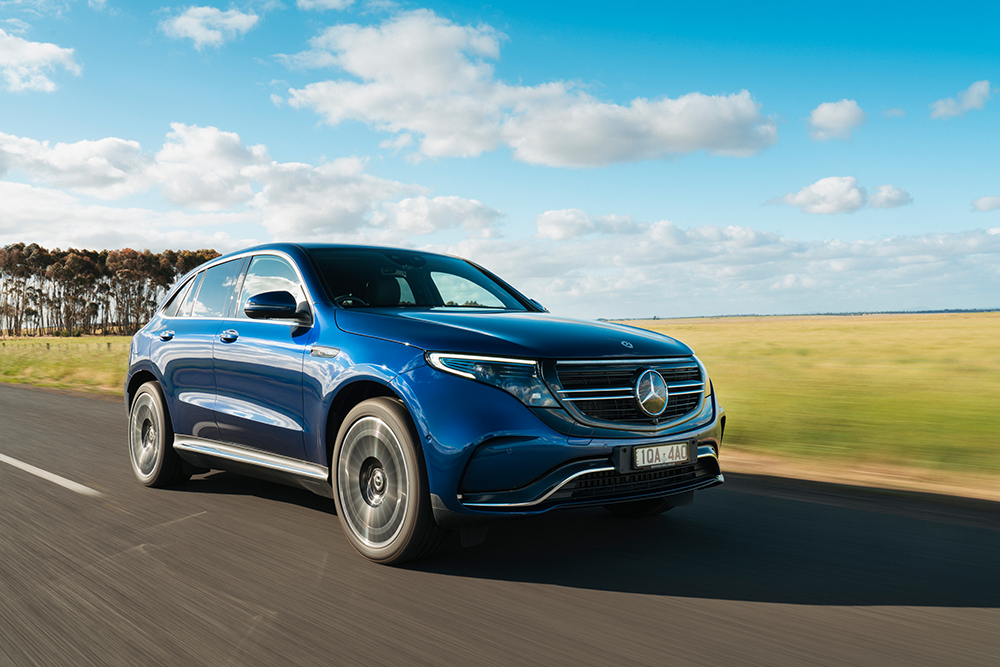 PLANNING AN EV ROAD TRIP
Visit for more useful tips from the experts.
LEARN MORE
The Great Ocean Road
The Great Ocean Road is an iconic drive for a reason. You'll be right alongside beautiful cliffs and stunning forests as you round the Otways National Park.
Setting off from Torquay is easy with an RACV DC charger available to top-up before you start on the Great Ocean Road itself. There are plenty of lookouts to enjoy on the way as you wind South-West.
Apollo Bay is a great stopping point near the southernmost point of the cape. The Best Western Motel offers two 11kW Tesla Destination chargers that are unlocked for non-Tesla use. Contact the owner in advance for $5 unlimited charging while you enjoy the beach or a local cafe.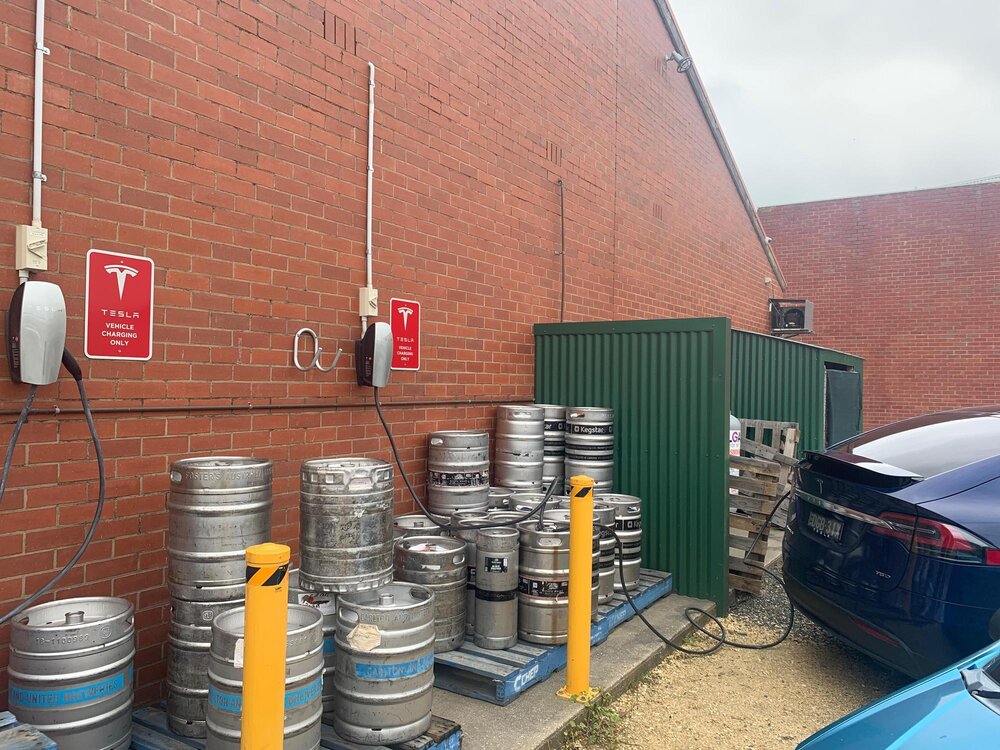 When you're ready, follow the road west and around past the iconic 12 Apostles (all 8 of them) and about 2 and a half hours on to Warrnambool. Once there, you have the choice of a Supercharger (Tesla only) or two Destination chargers at hotels near the waterfront (both available for non-Teslas).
Cradle Mountain Drive
Besides the scenery, wildlife, camping and cafes, Tasmania is home to many of Australia's smoothest and most enjoyable roads. Every mountain offers a unique path, and thankfully there are plenty of EV chargers available to keep it all accessible.
The highlight of all this is Cradle Mountain. Circling in from Launceston takes about two hours, and once you arrive there are Tesla Destination chargers and 22kW Type 2 AC chargers at the Wilderness Village and the Visitor Centre. Don't worry if your battery is low, there will be plenty of time to charge while you take a shuttle bus to the mountain for a day-hike.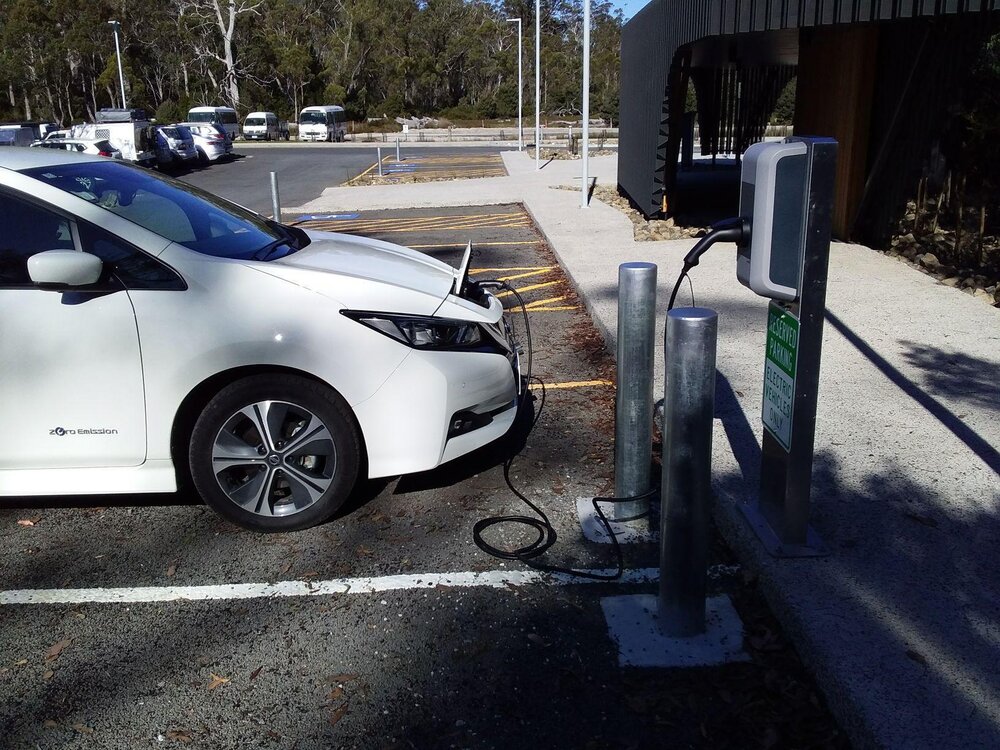 If you have the range and don't want to retread your route, head west and north out of Cradle Mountain to AC chargers at Somerset (about 110km) or the House of Anvers Chocolate Factory (another 65km, just north of Latrobe). From there, it's easy enough to get back to Launceston or catch the Spirit of Tasmania back to Melbourne from Devonport.
Adelaide to Port Augusta
Everyone could use some wine after months of lockdown in Adelaide, so why not make an expedition out of it?
The road north to Port Augusta is dotted with wineries, breweries, and small scenic towns. Since the first chargers are less than two hours out of Adelaide, you'll be able to comfortably stop or make a detour with charge to spare. Once you arrive in Clare, there's a Tesla Supercharger or a handful of AC chargers to choose from at Mr Micks Cellar Door Restaurant. Say hi to Mick for me.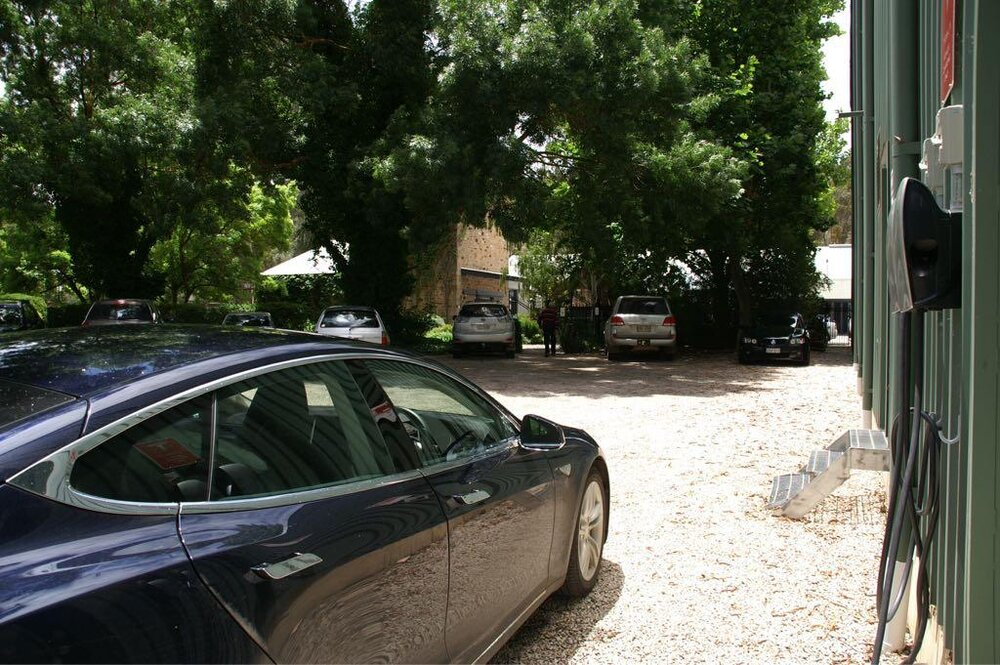 After lunch, it's another 140km north to Melrose with another Destination charger (available to non-Teslas) or you can cut west past Port Pirie and follow the coastline all the way to Port Augusta.
Once there, an overnight stay at the Standpipe Motel or the Majestic Oasis Apartments will give you plenty of time to charge, explore the town, and enjoy some local brews.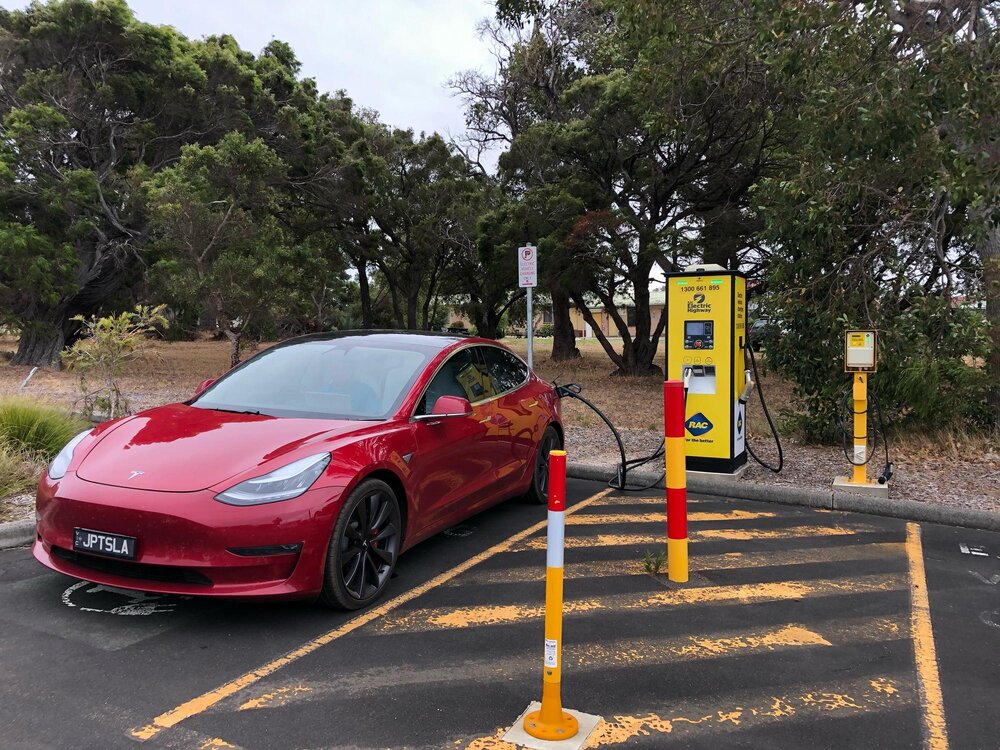 Explore the South West
Australia's South West — in addition to the wine, chocolate, food, and world-class beaches — is perhaps the most accessible EV roadtrip in the country. There are chargers available at regular intervals all the way to Augusta thanks to the RAC Electric Highway.
Where to stop is really up to you on this fantastic drive. Perth, Mandurah, Bunbury, Busselton, Dunsborough, Margaret River, and Augusta all offer DC chargers on the coastal road. Even less-travelled inland roads offer reliable public chargers.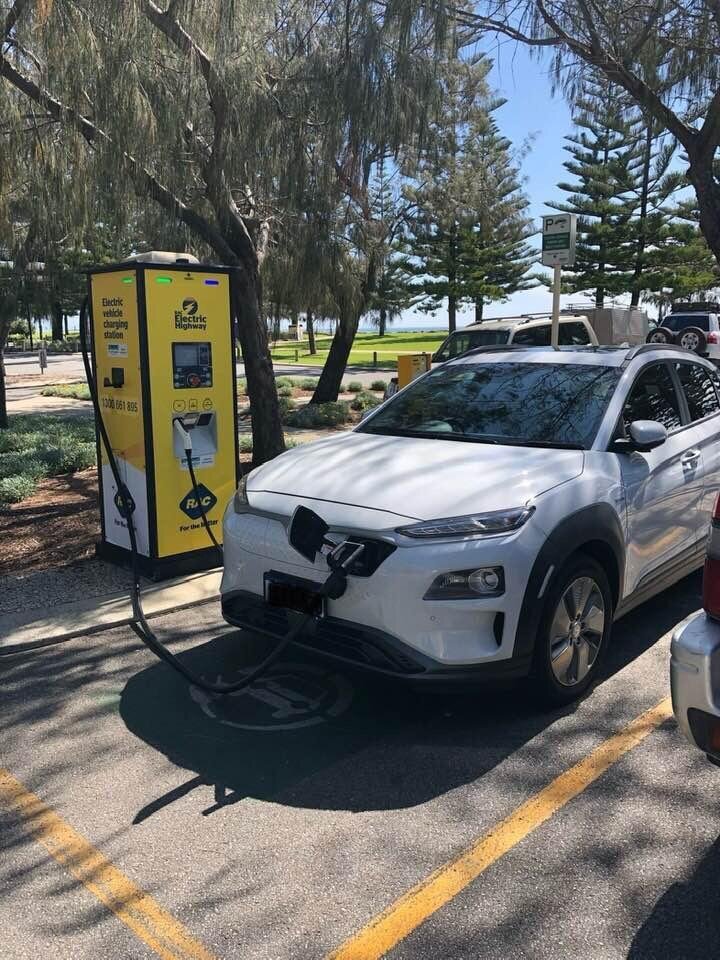 We recommend checking out at least Busselton, Dunsborough, and Margaret River if you haven't already. Pick your interests and the South West will have something for you — and a charger to get you there.
Sydney to Coffs Harbour
Road tripping is a great way to see the best of what the east coast has to offer, and every year more public chargers are installed to make it easier for all-electric drivers heading north from Sydney.
After leaving the city, you have the option of stopping at Central Coast for a Tesla Supercharger, or Newcastle or Nabiac for an agnostic DC charger.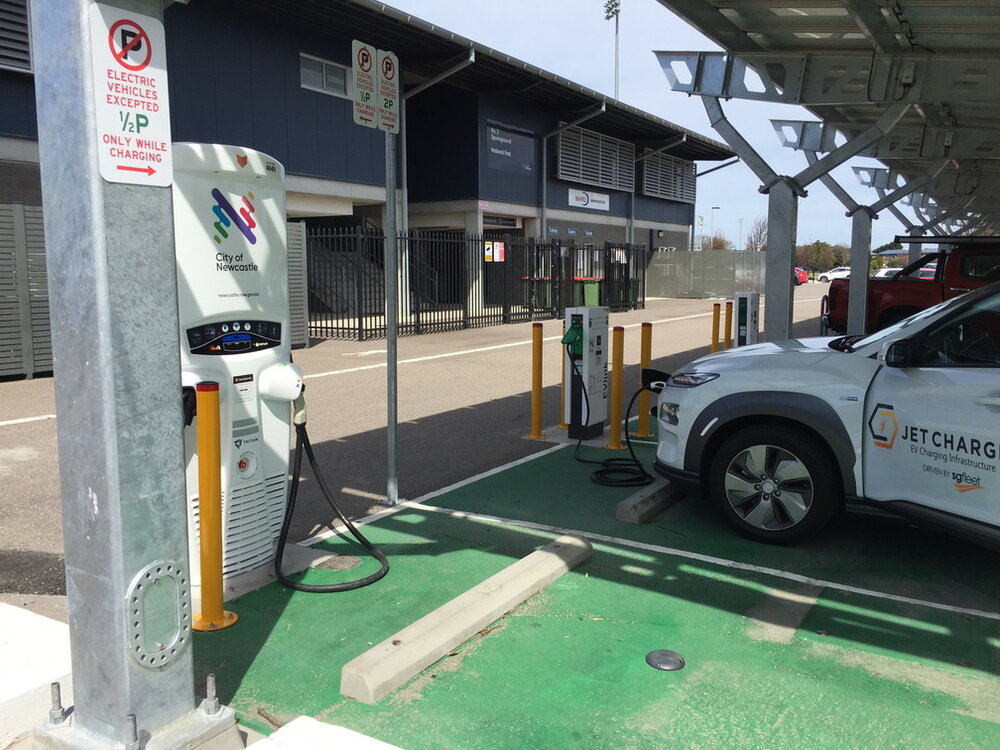 Past Nabiac, make sure you've got at least 100km of range to reach the next stop at Port Macquarie, where you'll have the choice of two DC charging locations just off the highway or a handful of AC stops in town.
From there, you can wind through Macksville or Nambucca for an AC top-up and a swim, or push on to Coffs Harbour 150 km north where there are plenty of Tesla Superchargers and AC chargers in select hotels across the town. From Coffs, you can charge at steady intervals all the way to Brisbane.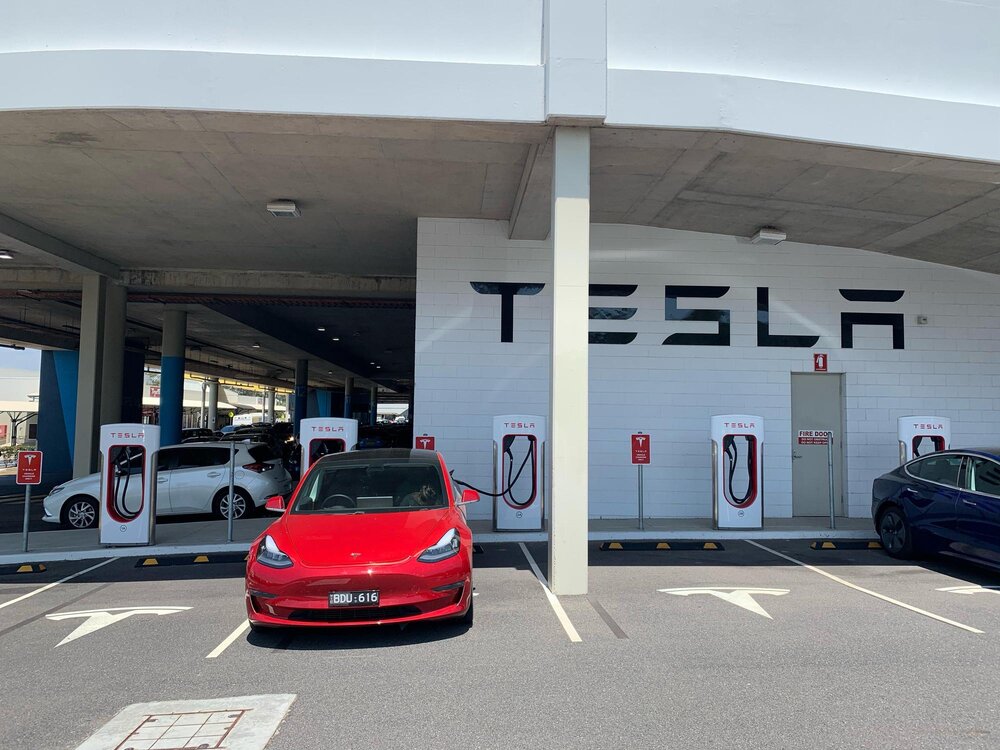 Brisbane to Cairns on the Queensland Electric Super Highway
If WA's South West has Australia's most consistent charger coverage overall, Queensland's Electric Super Highway has the best on a single road. The entire route from Brisbane to Cairns is serviced by DC chargers, so road-trippers have plenty of choice about where and how long to stop as they make the long drive.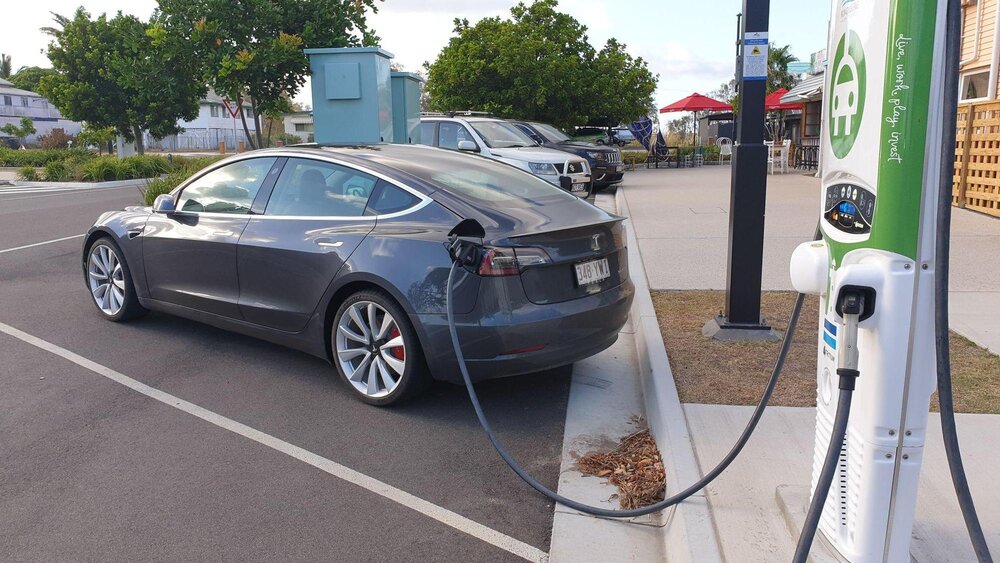 From Brisbane, you've got the choice of charging at Cooroy or Noosa, both about 160km north of the city. Continuing on, let the range of your EV help you decide between Maryborough, Childers, or at Kelly's Sea Cafe on the Burnett Heads waterfront.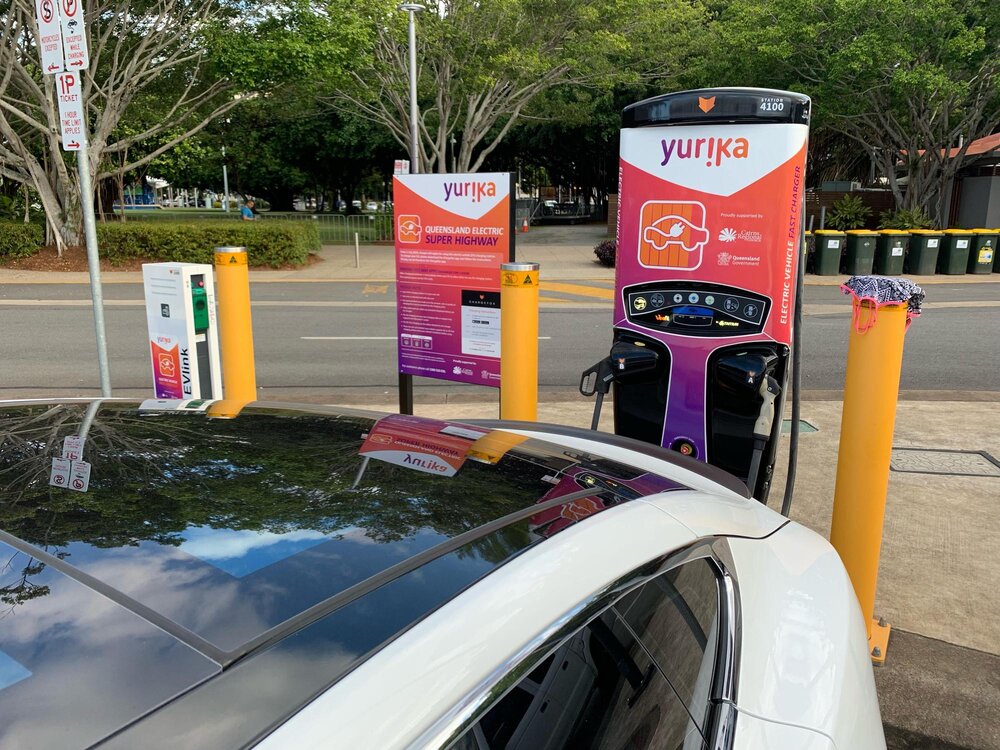 From there, you can soldier on to Rockhampton 300km north, or stop at Mariam Vale for a top-up on the way. Then it's Mackay, Bowen, Townsville, Tully and Cairns as you enjoy the best of Queensland's beaches, national parks, food, and fishing.
Plan it right and you'll never have to use an AC charger.
The Big Lap
As enjoyable as the aforementioned road trips are, for some Aussies they just aren't enough. The so-called Big Lap is exactly what you think it is: a circumnavigation of the entire continent along Highway 1 — the world's longest national highway at over 14,500 km.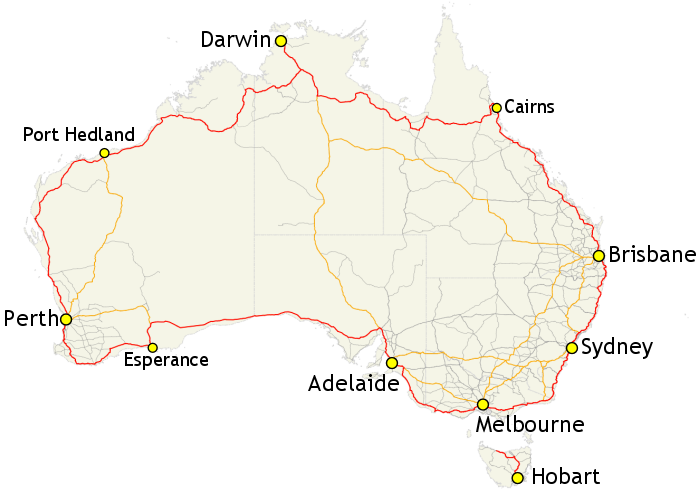 But unfortunately no, as of now you can't use public chargers to make the whole trip. Nine all-electric vehicles have made the trip so far using generators and portable charging cables and there's a trophy on offer from Tesla Owners Australia for the 10th.
Will it be you?
Planning your own EV road trip
These trips are by no means an exhaustive list of what's possible on Australia's growing public charger network. Planning your own EV road trip is easy once you know what to look for. Use the Plugshare database to stay on top of what's out there and let us know what you come up with!