Hyped for Will Smith's latest comedy caper 'Spies in Disguise'? Yeah, we weren't either. But strangely enough it's where you'll have to turn for a look at Audi's latest all-electric sports concept — and their first animated one.
The RSQ e-tron appears in an Audi ad disguised as a scene from the movie as well as in the film's latest trailer. Even if you miss the glowing blue Audi logo and e-tron badge on the front end, you can't help but notice Will Smith's voice urging the car into action with "Audi functions on-demand. Book performance package!"
You might also pick up on the distinctly non-electric sounds coming from the RSQ e-tron. Despite being 100% electric — not that it matters in an animated car — it can be heard revving and roaring through what sounds like a combustion engine.
And it's not even the first time Audi has misrepresented the sounds of their EVs in a film. The e-tron GT appeared in Avengers: Endgame earlier this year driven by tech genius/superhero Tony Stark, played by Robert Downey Jr.
While the e-tron GT wasn't on screen for long in Avengers, it caused a stir in the EV community for its distinctly non-electric engine noises. While the Spies in Disguise RSQ e-tron is a non-existent car which was going to have sounds added anyway, the Avengers e-tron GT had fake engine noise added to a real all-electric vehicle.
Audi justified the move in a statement:
On the basis of this request from the filmmakers, Audi experts developed a digitally-generated sound for the car. This sound was then further developed together with the sound experts from the filmmakers in order to fit perfectly into the scene.
Does engine noise in a non-combustion car really "fit perfectly into the scene"? Perhaps, but it does seem to undermine Audi's obvious effort to promote their new electric sportscars via film.
The electrification of Audi
The sounds coming out of the RSQ weren't the only questionable part of the video, either. Even if we put aside the cartoonishly perfect driving — through empty city roads, down an escalator, and through a train tunnel — the vehicle finishes an extended chase sequence with 99% charge and 297 miles (478 km) remaining range.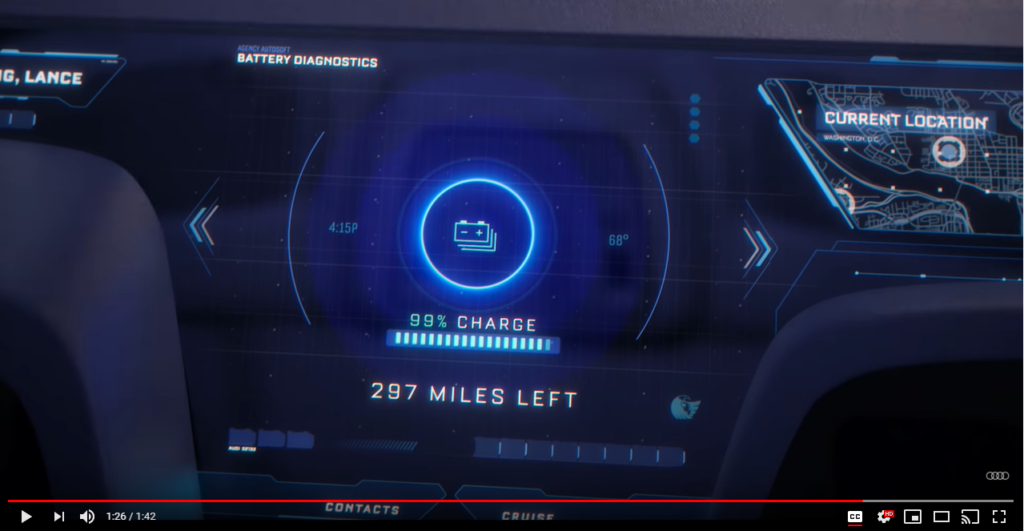 Are Audi EVs of the future going to have 300 miles of range? Their current crop certainly don't. Even the recently announced e-tron Sportback tops out at 277 miles (446 km) on the WLTP test cycle.
No word from Audi on whether the RSQ e-tron will transition from animation to reality.