BMW extends wireless charging trial to California
Thanks to wireless charging technology, a smartphone sold today might go its entire life-cycle without being plugged in, so why not EVs? BMW's inductive charging trial stalled last year after a slow European rollout, but that might be over as they move to extend the program to US customers.
A handful of Californians will be the first Americans to use wireless charging on their BMW 530e plug-in hybrids. BMW are installing the systems in people's homes as part of their Induction Charging Pilot Program.
The program generated a lot of buzz when it was announced in 2017, leading many to expect a worldwide rollout, but BMW have remained silent on wireless charging for over a year.
---
What is wireless EV charging?
---
Until this month. Wireless charging isn't as simple as the plugged alternative and isn't being actively worked on by most manufacturers, so BMW's progress has been slow. In early August they opened an online questionnaire for California-based 530e owners to apply for the program, with 200 places available.
To participate, customers must lease a 530e for the 36 month trial duration and have a qualifying residence with a closed garage. They'll also need to allow BMW's technicians access to install and monitor the charging unit.
While BMW are paying for the installation and maintenance of the charging infrastructure, customers will still have to cover the expense of the lease.
Induction charging for EVs works more-or-less the same as it does for a smartphone. BMW's GroundPad is placed in the parking space, with a corresponding CarPad installed on the underside of the vehicle. When the car is parked overtop, the GroundPad emits a magnetic field that induces a current in the car above, which charges the battery.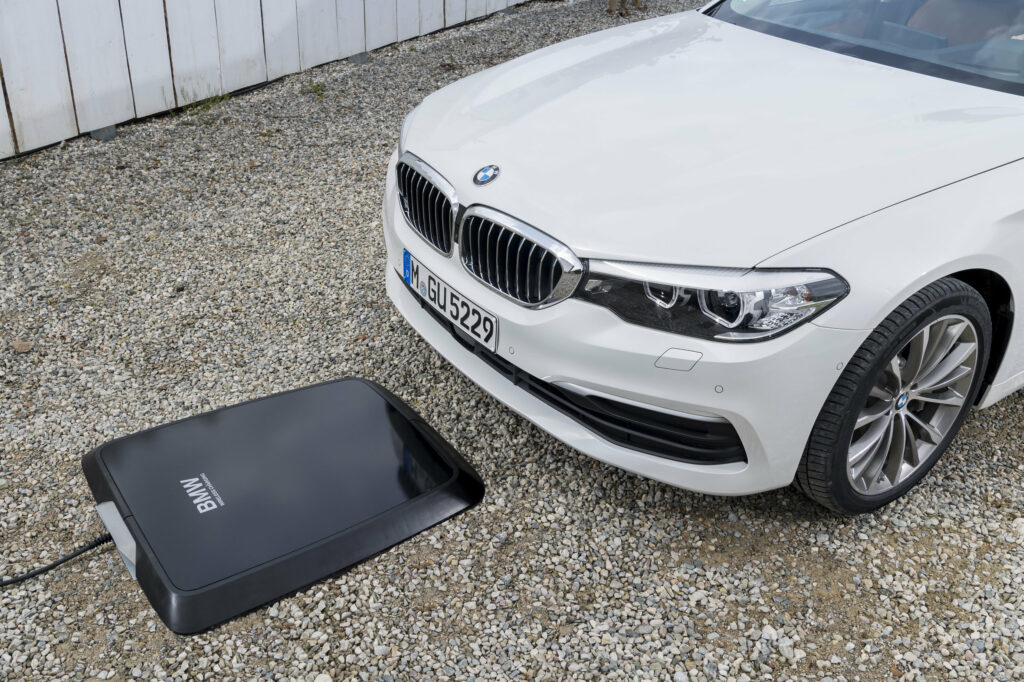 BMW claim their system is 85% energy efficient with a 3.7 kW charging power, about half the capacity of a standard AC plug-charging station. At this rate, the induction unit can fully charge the 530e's 12 kWh battery in 3.5 hours.
Efficiency is strongest when parking directly over the unit, which is made easier with a WiFi connection that guides drivers as they park.
Unfortunately there's been no news about an Australian addition to the induction charging program, but thankfully plugged charging is still faster and available nationwide. For home charging stations and accessories, you can contact the JET Charge technicians at info@jetcharge.com.au — and be sure to keep up with the JET Charge blog for more EV news and updates.