Saving the weekend with electric jet skis
Canadian powersport company Taiga are back in the e-mobility game with the reveal of the Orca electric personal watercraft — and they're not the only ones doing it. The days of silent, zero emission lakeside fun might be closer than we thought.
Personal watercraft, known to most by the Kawasaki-owned moniker Jet Ski, are a common sight on waterfronts worldwide. To their dedicated fans they're an adventurous hobby, but to many others they're seen as a loud and toxic nuisance. Can electric mobility end the controversy for this waterborne icon?
Canadian powersports maker Taiga certainly think so. The company that built the world's first electric snowmobile have dipped their toes into the water today with the reveal of the Orca e-PWC (that's the acronym we're going with). 
Onlookers on the Toronto harbourfront were the first to see the Orca in its first public appearance before launching next year. The 134 kW (180 hp) machine is Taiga's first PWC, and they're betting the perks of electric mobility will be a draw for powersport fans and a solution to many of the sport's criticisms
The pollution problem
It's no secret that PWCs are a divisive topic for lake- and ocean-front residents. They're among the highest polluting of any type of vehicle sold today. Two-stroke engines dump up to 30% of their fuel straight into the water. Even four-stroke alternatives still emit significantly more micropollutants than most modern vehicles.
PWCs were banned from US national parks in 2002 and many Australian states and parks soon followed with their own bans, citing pollution concerns and public outcry. Tourist areas have long been wary of allowing PWCs; even without pollution they still cause significant noise disruption for those seeking a peaceful waterside getaway.
Meet the Orca
Thankfully for PWC proponents, these are exactly the issues Taiga have set out to fix with the Orca. The all-electric model is based on the same platform Taiga is using for their e-snowmobiles revealed earlier this year.
If snowmobiles can go electric, anything can
And it looks set to share the high performance characteristics of its alpine peers. The Orca weighs in at less than 600 lbs (~272 kgs) and has a 104 km/h top speed with instant torque delivery (unlike any combustion competition). It boasts a full carbon fibre body, a floating seat design, and the lowest centre of gravity of any PWC on the market. Skeptics can hardly argue it's short on fun.
Taiga have also worked to maximise luxury and convenience for owners. A handlebar-mounted digital display is host to GPS, WiFi, and Bluetooth functionality, with integrated sensors to check water temp, cameras, and sonar. Intermittent riders can also rest easy knowing the Orca can wait up to 5 years unplugged thanks to automated periodic system checks. A 23 kWh battery delivers up to 2 hours ride time with access to all varieties of EV charging including AC and DC fast charging.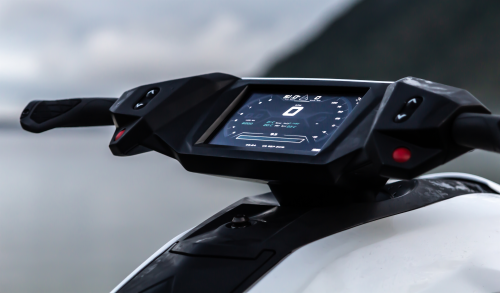 But all this doesn't come cheap — or with worldwide availability. Taiga will be delivering 100 units of the Founder's Edition Orca to European and North American customers next year for a hefty $28,000 USD (~$41,000 AUD), with 400 standard models to follow at $24,000 USD (~35,000 AUD). Certainly not cheap, but Taiga have indicated plans to extend their range in the coming years with models below $14,000 (~$20,500 AUD).
Electrifying Aussie watersport
All the progress of e-PWC technology isn't worth much for us if Australians can't buy the models — or afford them when they arrive. Electric truckmaker Nikola Motors have revealed their own e-PWC: the WAV. They have yet to provide many details for the new model, but their online platform is allowing reservations from Australia.
And our own engineers haven't slept on the idea, either. In 2015 a team from the University of Western Australia debuted the country's first e-PWC as part of an ongoing project on electric mobility. You can see the prototype in action below.
By 2019 the same team had partnered with Perth-based startup Electro.Aero to produce the world's first electric hydrofoil PWC. Hydrofoils use wing-like 'foils' that raise the craft out of the water as it gains speed. The result of their work is the WaveFlyer.
A new world for watersport?
It's early days for the electric PWC. If you're a powersport pioneer with a weighty wallet you might get your hands on one in the next couple of years; the rest of us will likely be waiting up to a decade before affordable options reach Australian buyers..
This can mostly be attributed to the relatively small market for leisure watersports as a whole. Even then, it might be an uphill battle for fans wanting to ride their new e-PWCs on public water. The restrictions on PWCs are unlikely to be lifted until the benefits of e-mobility becomes clear: no noise, no pollution — and there is enough will to push for their reintegration into public spaces.
So while this might not be the biggest news for PWC fans in 2019, it does represent a valuable step forward in bringing electric tech to the space. Just as snowmobiles, motorbikes, bicycles and scooters have before them, PWCs will stand to benefit hugely from the shift away from combustion.
Check out more EV news and updates on the JET Charge blog. You can contact us at info@jetcharge.com.au with personal EV charging inquiries or follow our Facebook page for regular updates.