Making Home Charging Easy
We're here to support your home charging journey
Over 80% of Australian Electric Vehicle (EV) and Plug-in Hybrid Electric Vehicle (PHEV) owners charge at home. 
One of the many benefits of going electric is the flexibility on how you refuel. In a petrol or diesel vehicle, you're limited to refuelling at designated public locations at a fluctuating cost, however with EV's, you can perform the vast majority of your refuelling at your own home whilst doing other things. 
You can wake up every morning knowing your vehicle is fully charged and ready for your commute.  
Video Tutorials
JET Charge has put together a series of videos that guide you through everything you need for your electric future, from everything you need to know, to basics of home charging, planning for road trips, public charging and more! Head to our YouTube page to watch the entire series. 
Charging Basics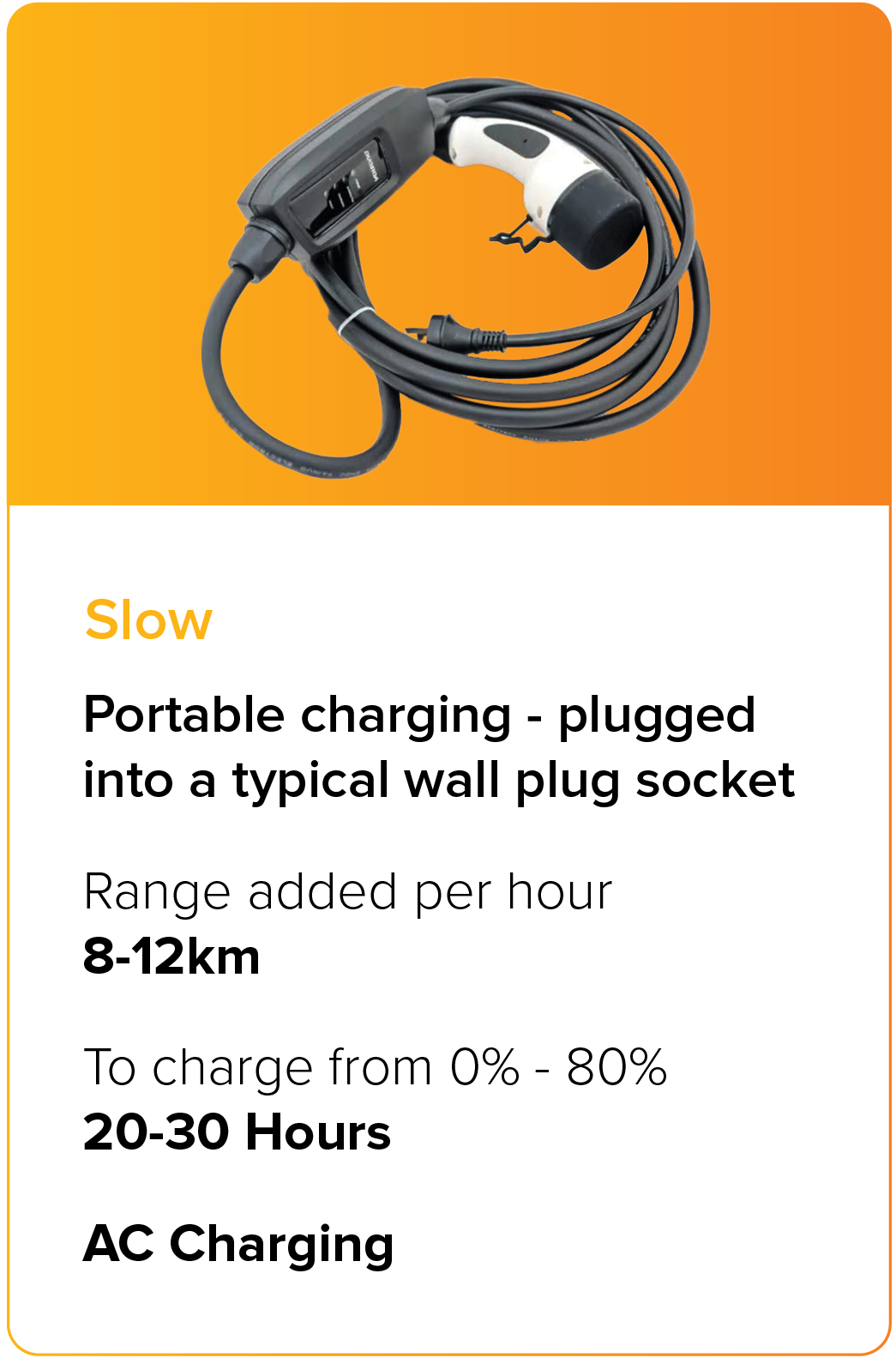 Slow Charging
Some EV's and PHEV's provide a portable charger with your vehicle, otherwise they can often be purchased separately. These allow you to charge from any standard power outlet, just like you charge your phone. These chargers are recommended to be kept in the vehicle for use in emergency situations or powered camping sites.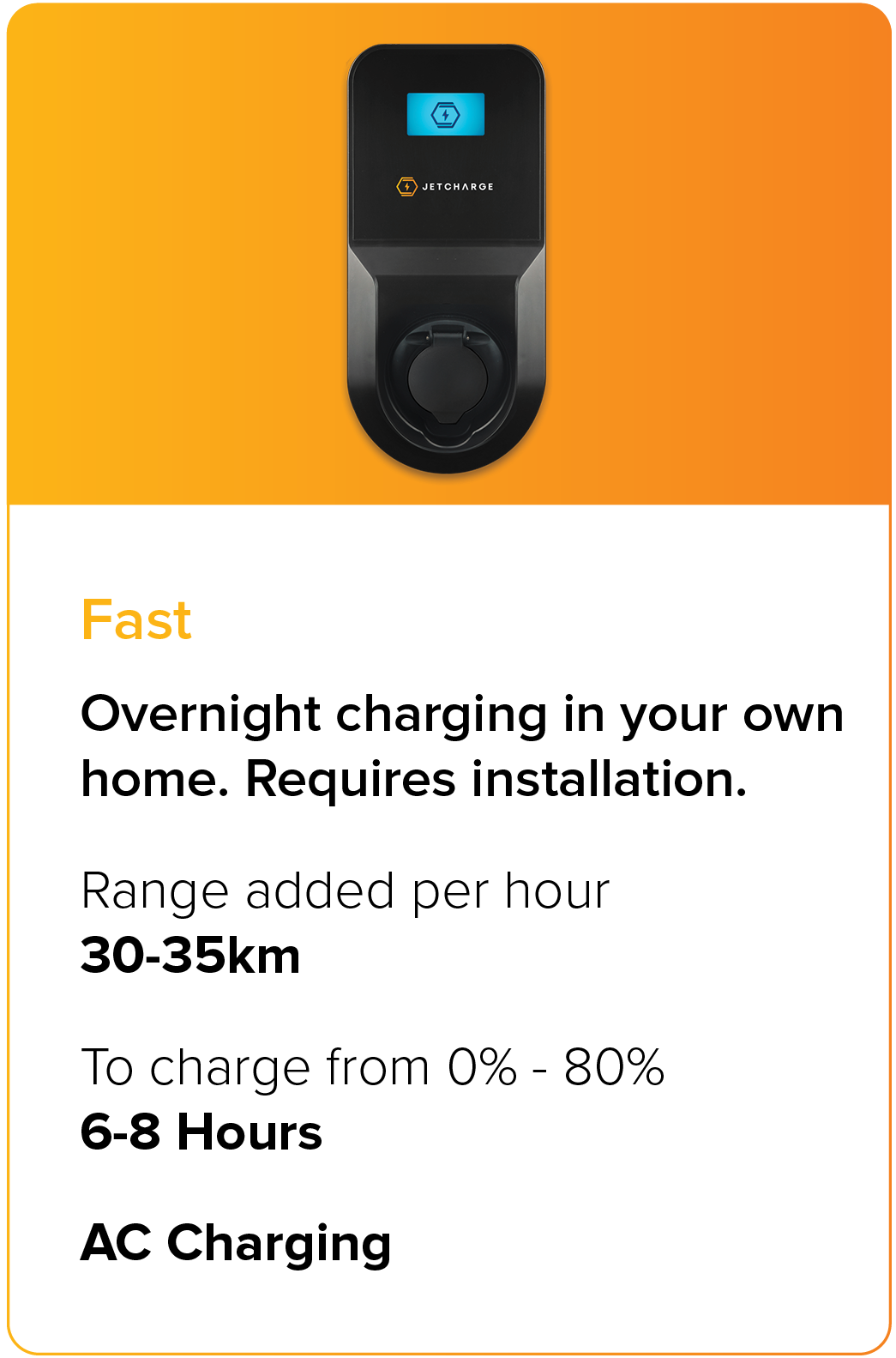 Fast Chargers
Fast chargers are installed by a licenced electrician directly into your homes existing power supply and utilise the cost structure of your current electricity supplier. This means if your electricity supplier provides off-peak rates, you can further reduce your refuelling cost. You can also connect to any existing solar to minimise usage from your electricity supplier altogether!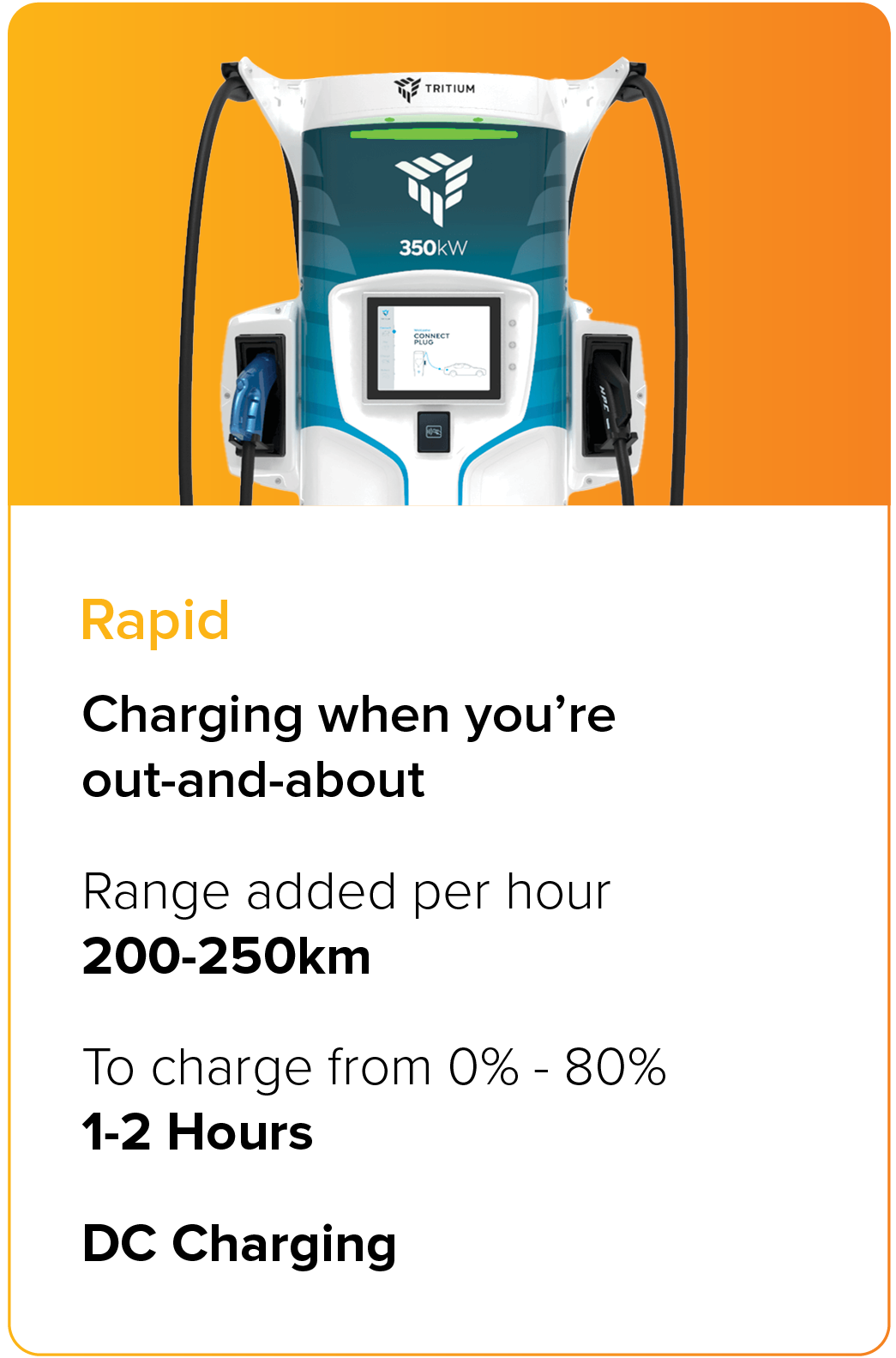 Rapid Charging
For longer journeys or charging whilst you're out-and-about, a vast public charging network exists of both Fast and Rapid chargers. These are often located at destination points or on major highways, allowing you to charge and get back on the road quickly.
So how do I install a charger?
The good news is, the charging process is simple, and we're here to help.  
Our dedicated charging specialists will help you through every step of the way. When installing a charger, this may involve changes to your electrical wiring. A home EV charger is the equivalent of installing 3 x 2.5kW aircon units! That means we need to assess the nature and complexity of each installation individually. 
What are the key steps to get a home installation? 
Step 1: Kick-Off 
Your fleet manager will provide your Fleet Leasing company with some basic information such as contact details, address, and vehicle choice.  
Step 2:  Remote Assessment 
To help us assess the nature of your home installation, we'll need some general information about your home, your Wi-Fi connection and intended charging location along with some photos of your property. Once shared, JET Charge will confirm if your installation is 'standard' or if there are any additional considerations. 
Step 3: Schedule Installation 
Once we have the go ahead, our team will contact you to arrange an installation day that suits ahead of your EV delivery. We'll also send an SMS reminder 24 hours before the installation day. 
Step 4: Installation 
Our friendly technician will arrive at your home at the agreed time, install the charger and run tests to ensure everything works and is ready to go.  
What do I need to know around Installation
Installations typically take up to 4 hours

 
You don't have to be onsite the whole time, just the start and end

 

Your power will be turned off for around 20mins to complete and test the installation

 
FAQs
We appreciate EV/PHEV's and charging are new for lot of us, so we've thrown together some of the most frequently asked questions to help put your mind at ease and get you started.
You can also visit http://www.jetcharge.com.au/resources for more information.
What is the best way to charge my EV? 

The best way to charge any EV/PHEV is at home by installing a dedicated wall charger. Globally and in 
Australia the most common method of charging is by installing a dedicated home fast charger. Over 80% 
of Australian EV owners reported charging at home at least twice per week and in contrast, approximately 90% 
of owners reported using public chargers less than once per week.  
How can my charger be installed?

When installing an EV charger at home, an experienced electrician will need to run a dedicated cable in your garage that is rated to handle the charger. They will also ensure that additional safety measures are completed in your switchboard. Installing a dedicated charger is the equivalent of installing 3 x 2.5kW aircon units, it requires specialist work to be done to your electrical infrastructure. 
What are the specifications of the dedicated home charger?

The dedicated home charger provided is our Australian made, ChargeMate. 
 
ChargeMate is a smart, compact and easy-to-use charger, wall-mounted in your garage location and connected to your existing electricity supply to enable fast charging. Rated for charging at both single and three phase, with Wi-Fi and a companion mobile app, ChargeMate also offers smart features like remote control and more.  
 
You can also select a model with Solar Optimisation to utilise your surplus solar. 
 
Charger Type  AC 
Connector Type   Type 2  
Maximum Power  7.4kW (1 Phase) / 22kW (3 Phase) 
Range Added per Hour  Up to 70km 
Communications  Wi-Fi 
Warranty  Unlimited under contract with JET Charge 
How do I use my ChargeMate?

We've designed the ChargeMate to be intuitive and easy to use. We also have the JET Charge Connect app for your mobile phone to compliment your usage. See our ChargeMate User Guide to learn more. 
Can my charger charge other vehicles brands when I have a friend over with an EV?
Absolutely! Most home chargers can charge any car that has a Type 2 socket. This is the standard 
plug type in Australia. 
Do I need 3 phase electricity at home to install my charger?
Some EV/PHEVS's do not accept 3 phase power and work off standard AC (single phase) power. Your JET Charge team will be able to guide you through the process and assessment. 
Will my electric vehicle come with a cable?

Your vehicle may include a portable charging cable designed to plug in and charge from any designated power-point. These are great for charging in a pinch and recommended to keep in the boot, as they're not recommended for daily charging needs due to the significantly slower charge rate. .  
Can I get a charger if I live in an apartment?

You sure can! We've already worked all over Australia to help apartment owners set up for success. We specialise in integrating private chargers into shared electrical networks and complex building-wide infrastructure. Apartment installations are non-standard because the process is slightly different. Each building is reviewed on a site-by-site basis and the charger hardware used may differ to the options above depending on what is needed at the site. Just inform your Jet Charge representative if you live in an apartment and we will work with you to do the rest. 
Can the speed of charging vary?
The speed of charging of an EV charger installed in your home can vary depending on the power available in your home, the state you're in and the service and installation rules of the state. Some states have a limit on maximum charging rate while others don't. QLD and SA have limitations, but WA, NSW, VIC, TAS and the ACT don't. 
Can I install my dedicated home charger outside? 
Yes, these chargers are rated to be installed indoors and outdoors. 
Is it possible to track the charger through my phone?

Absolutely! ChargeMate is a smart charger that can remotely connect to the JET Charge Connect app. With the JET Charge Connect app, you can start and stop charging session, remotely adjust charging and schedule charging depending on your electricity on-peak or off-peak rates.
How do I install a charger if I'm renting?

If you're currently renting, speak with your landlord to discuss the process around installation and removal. There will be some benefits to the landlord to consider, as by running the wiring to the garage, it future proofs the property to be EV ready in the future as the wiring itself will not be removed. 
What is included in a standard installation?

In a standard domestic installation:

JET Charge will install a new electric vehicle (EV) charging station that can provide up to 7.2 kW of power 
The charging station will be connected to a single-phase electrical circuit, and the maximum current it will draw will be determined on site based on the local electrical requirements. This will ensure that the charging station is able to provide a reliable and efficient way to charge your EV. 

JET Charge will install a new electrical circuit in your building that will be used exclusively for your charger 
The circuit will be made up of about 20 meters of copper cables that are mounted on the wall or ceiling. If the distance between your switchboard and charger is longer, more copper cable will be required which will incur an additional cost.  In some cases, we may also use PVC conduit to protect the cables. The conduit will be visible in a few locations, but it will be no longer than 400mm. This dedicated circuit will provide a reliable and safe way to supply electricity to the designated area or equipment.  

JET Charge will install a safety switch near the electric vehicle (EV) charging station 
This switch, called an isolation switch, can be easily accessed, and will allow an electrician to safely turn off the EV charger when maintenance work is needed. This will ensure that the EV charger can be safely worked on without disrupting the power supply to the rest of the house. 

JET Charge will take care of all the electrical components and hardware needed for the installation 
This includes things like cables, conduits, and any other materials that are needed to properly contain and secure the electrical components. You don't need to worry about providing these materials, as we will take care of everything for you.
  
JET Charge will include special protection for the electrical circuit that powers the electric vehicle (EV) charging station. This protection will be installed in the main switchboard of your building and will include devices called an RCBO or an RCD 
These devices are designed to quickly shut off the power in the event of an electrical fault, such as a short circuit or an overload. This will help to ensure the safety of the EV charging station and the building and protect against electrical hazards. 

To explain further, an RCBO (Residual Current Circuit Breaker with Overload Protection) is a type of circuit breaker that combines the functions of a residual current device (RCD) and an overload protection device. It is used to protect against electrical faults and overloads in a circuit. An RCD (Residual Current Device), on the other hand, is a safety device that is designed to quickly shut off the power in a circuit if it detects an imbalance in the current flowing through the circuit. This can help to prevent electrical shocks and other hazards. Both devices are commonly used in electrical installations to provide additional protection and safety.